The best children's books this Spring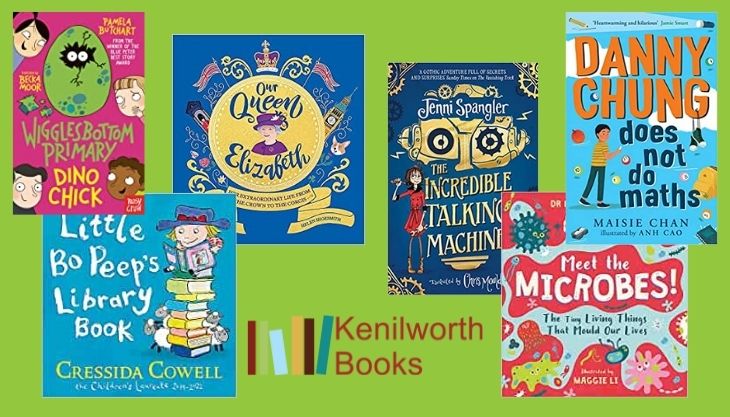 Have We Got NEW for You! Bookseller Tamsin Rosewell of Warwickshire independent bookshop, Kenilworth Books, highlights some of the best children's books this spring!
Little Bo Peep's Library Book
By Cressida Cowell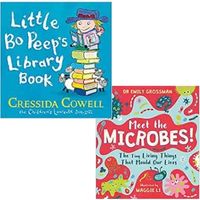 Little Bo Peep goes to the library to look for a book called How To Find Sheep. But there are other characters browsing the shelves too! Will she find those troublesome sheep before the Big Bad Wolf finds HER?
Step inside this amazing book, discover the true magic of reading and meet all your favourite nursery rhyme characters, including Little Boy Blue, Mother Goose, the Big Bad Wolf and the Queen of Hearts. From the best-selling author of How To Train Your Dragon and the Children's Laureate 2019-2022, Cressida Cowell.
Meet the Microbes!
By Emily Grossman and Maggie Li
Step into the incredible world of microbes in this fascinating picture book! With fun, playful text by expert Dr Emily Grossman and bright, characterful illustrations this book will help kids to discover just how vital microbes are to life on earth.
These tiny organisms – that can only be seen under a microscope – are absolutely EVERYWHERE. In fact, they're even living inside our bodies, travelling through outer space and swimming in the world's seas. And while some microbes can make us sick, many of them actually keep us well, and even help to keep our planet happy and healthy.
Our Queen Elizabeth
By Kate Williams and Helen Shoesmith
A colourful, charming picture book by historian Kate Williams, taking young readers on an amazing journey through Queen Elizabeth II's seven decades on the throne.
Readers will learn all about Elizabeth II's youth growing up during WWII, how she came to the throne and what it really means to be the Queen. Along the way, they'll see her sparkling crown jewels and magnificent palaces. They will meet her beloved corgis, horses and of course, her very famous family. Plus they'll discover lots of amazing facts – such as why she has two birthdays, always wears bright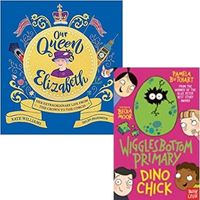 clothing, and is a world record breaker!
Dino Chick
By Pamela Butchart
The strangest things happen at Wigglesbottom Primary! When Year Two is chosen to look after some eggs that are about to hatch, they KNOW something is strange about one of them. What if it's not a chick egg, but a DINOSAUR EGG???
These three short stories keep just confident readers engaged whilst lively illustrations bring these hilarious early readers to life and perfectly bridge the gap between picture books and chapter books.
Written by the bestselling, Blue Peter award-winning author Pamela Butchart and illustrated by Becka Moor.
Dany Chung Does Not Do Maths
By Maise Chan and Anh Cao
SHORTLISTED FOR THE BLUE PETER BOOK AWARDS 2022
Eleven-year-old Danny Chung loves drawing more than anything – certainly more than maths, which, according to his dad and everyone else, is what he is 'supposed' to be good at. He also loves having his own room where he can draw in peace, so his life is turned upside down when a surprise that he's been promised turns out to be his little, wrinkly, ex-maths-champion grandmother from China. What's worse, Nai Nai has to share his room, AND she takes the top bunk! Nai Nai can't speak a word of English, which doesn't make things easy for Danny when he is charged with looking after her during his school holidays.
Babysitting Nai Nai is NOT what he wants to be doing! Before long though it becomes clear to Danny that there is more to Nai Nai than meets the eye, and that they have more in common that he thought possible …
The Incredible Talking Machine
By Jenni Spangler and Chris Mould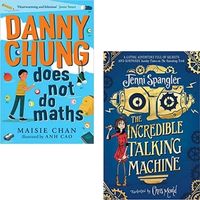 Twelve-year-old Tig works at Manchester's Theatre Royale, cleaning, selling tickets and doing anything else that is asked of her by her tyrannical boss, Mr Snell. Tig will do whatever it takes to get closer to her dream – to become a Stage Manager and spend her days inventing new ways to imagine and build the intricate machinery and props that bring the exciting productions to life! But when a strange new act – a talking machine – arrives at the Theatre Royale, it moves and behaves in a way that Tig just can't work out.
It's as though it's alive somehow . . . And when the machine appears to be hiding a dangerous secret, Tig must race against time to solve the mystery, before everything and everyone she cares about is lost forever. A Victorian adventure full of ghosts, gadgets and shifty villains!