Perfect Places to Pedal – Coventry & Nuneaton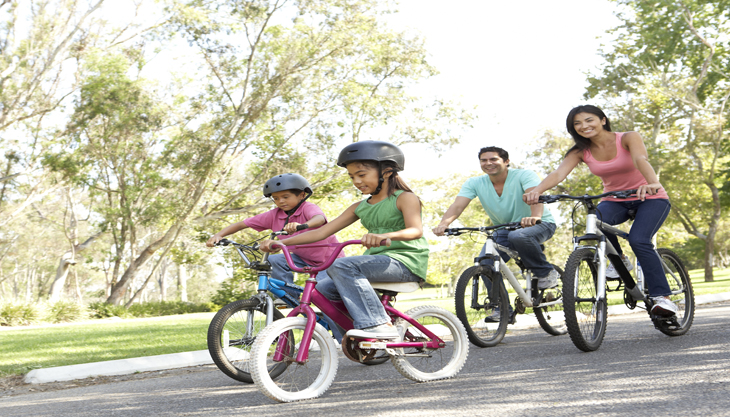 Cycling is not only great exercise for both you and your kids, it's also the most green form of transport you can take. So lower your carbon footprint and get on your bike with these tips for both beginners and more experienced cyclists.
Getting started – If you have young children, you will need some method of transporting your little ones on your bike. Options include: a bike seat (approx 6mths-3yrs) that fits on either the cross bar or the back of an adult bike; a sit-in trailer (approx 6mths-5yrs) that can be pulled by an adult bike; or a trailer bike (approx 4-9yrs) that attaches behind an adult bike. Whichever option you prefer, visit a reputable bicycle shop for advice before buying.
First rides – Children who have just learned to cycle independently – usually around seven years old – will enjoy a cycling trip with you. To keep them enthusiastic, start with short, safe traffic free journeys on relatively flat routes, and allow for plenty of rests so they don't get too tired. Cycle behind them so you can see them clearly.
Practicalities – Security is essential, so invest in a good quality bike lock for each bike – look for a strong lock that can secure the wheels and main frame to a solid external support. Panniers – bags that usually fit on a rear rack of a bicycle – are a useful way to carry things and are more comfortable than backpacks, which can be heavy and hot. Cycling is thirsty work, so always carry enough water for everyone. A few snacks probably won't go amiss either.
Head out – Once you are confident about cycling with your family, go exploring. For over 10,000 miles of routes on traffic-free paths, quiet lanes and traffic-calmed roads, check out The National Cycle Network on the Sustrans (the UK's leading sustainable transport charity) website: www.sustrans.co.uk.
---
Here are our favourite local places to go for a family bike ride:
1. Canal Towpaths
Our local canal network provides an abundance of flat towpaths along which to ride. It's lovely to cycle alongside the waterways, spotting wildlife along the way. The Coventry Canal Greenway is a lovely ride that is 100% road free, so great for kids (just stay away from the edge!.  You can cycle all the way from Coventry Canal Basin to the Hawkesbury Junction, following the Art Trail as you go.
Alternatively, you can cycle the Coventry Canal through Nuneaton.  The canal actually goes from Coventry all the way up to Fradley Nature Reserve, but why not cycle through Coventry up to Atherstone Locks?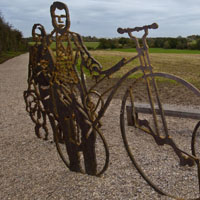 Starting from the Café in the park at the Coventry War Memorial park this is a lovely gentle, traffic free route for all levels and abilities. In fact great, for younger children just starting to build their confidence. You can enjoy the park slowly from two wheels and wave to the birds and the squirrels as you spin past. It is a small park but you can ride as many laps as you want to do.
3. Whitestone to Riversley Park, Nuneaton
Another 100% road free route is from Whitestone Recreation Ground through to Riversley Park in the town centre of Nuneaton.  This route follows the National Cycle Network No.52.
4.Canley to the Lunt, Coventry
If you're keen to get the family cycling on roads, why not try this route? It's fairly flat and uses cycle paths and mainly quiet roads.  The route takes you to some of Coventry's historic sights.  Start at Canley station through Canley Ford and then towards Coventry War Memorial Park. Then its onwards to the Roman Lunt Fort.  The route then loops back to Canley.
This runs from the outskirts of Kenilworth to Burton Green. This traffic-free walking and cycling route provides an essential link between local villages, the University of Warwick, Tile Hill railway station and Kenilworth town centre.
So much to see and do at Warwickshire's premier waterside attraction! Kingsbury Water Park has 15 lakes situated in over 600 acres of country park. You can ride along the surfaced paths, explore hidden corners or spot birds and wildlife. Bikes are available to hire. Whatever your idea of a countryside visit is, you will find it at Kingsbury.
The 100 acres of Ryton Pools Country Park are just waiting to be explored. The many different habitats are home to a wide range of birds and other wildlife. The excellent surfaced paths enable easy walking and cycling around the site.  There's even a 16 mile mountain bike trail if you're feeling up to it!