Top Tips for Stress Free Party Planning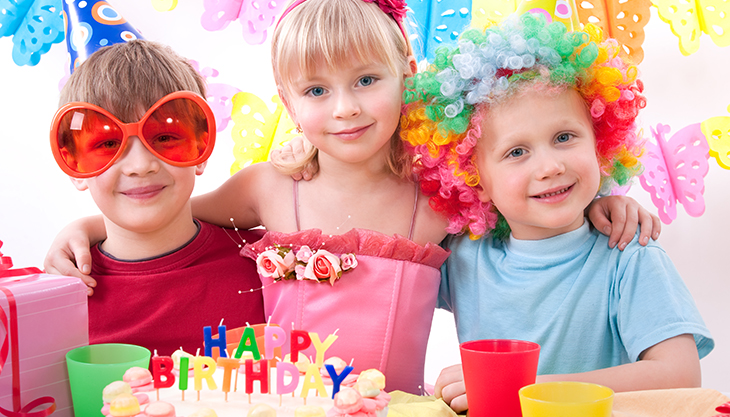 With so many celebrities throwing lavish birthday parties for their children are you feeling the pressure to plan the perfect party for your child? James Lovell says "Children's birthday parties can be full of trepidation – and not just for the birthday boy or girl. The anxiety of keeping a dozen children entertained for an afternoon can be enough for many parents to call in outside help from wacky entertainers to hiring expensive venues, or simply leaving the organising to their other half and hiding in the kitchen until it's all over."
Here Tanith Carey, author of 'Taming the Tiger Parent' shares her tips and advice.
Top Tips for Stress Free Party Planning:  
Make it a team effort: Many hands make light work, so enlist help from your friends and other family members. From cake baking to face painting, it's easy to get everyone involved
Set the scene: Banners, bunting, balloons and fairy lights are affordable and excellent for creating a party atmosphere
Child's play: Always make sure that you have more games prepared than you actually need. It's much better to have too many than run out
Prizes: Sweets and small toys work really well for prizes. Remember, the round of applause for winning should be much more exciting than the prize itself!
Goody bags: Don't go overboard – children will be delighted with a lollipop, a bouncy ball, a notepad and pen and a slice of cake
Plan ahead: Make your money go further and reduce stress by planning at least six weeks in advance of your child's birthday. Signing up to a scheme such as the Argos Birthday Club for information and advice as well as exclusive offers
The Best Parties for Every Age 
First birthday party: These parties are, let's face it, more about a picture opportunity and a slap-on-the-back for making it through the first year than for your baby, who won't know what day it is. Keep it short and sweet and restrict it to one or two mum friends or close family members.
Age two to four: Little ones of this age are still learning what having a birthday party means, so keep it low-key and restrict the size of the guest list to your child's age, plus one. A simple theme is easiest in the early years – like water, sand or plasticine play.
Age five to six: When you child first starts Reception at five, many parents feel they have to invite the whole class, partly to be friendly and partly out of fear that their child might get left off a guest list a later stage if they don't. Put your worries aside because having up to 30 kids is likely to turn into a major stress not only for you but also your child. For many children, play is very gender based at this stage, so if you want to cut down numbers roughly along these lines, other parents are likely to understand. If you are still thinking of inviting a large group, make sure you don't leave out a proportion of less than half of the class. Otherwise kids are bound to find out – and could well feel excluded.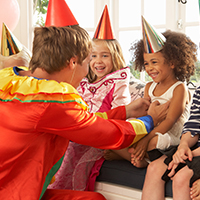 Age six to nine:  By this age, kids often have a theme in mined, based on a favourite movie or character. The result is that not surprisingly your daughter could end up being the third girl in the class to ask for a Frozen Party or your son the fourth to ask for a Spiderman doo. If so, don't worry. In the words of a certain song: 'Let it go'. If that's what they are really into, make it happen. The good news is there many different ways to do the same idea. For a Frozen celebration, you could plan a karaoke event, an Elsa craft-making session, or a baking party to create frosty-looking cupcakes. For a spider-man do, you could create a basic assault course in your garden to let guests show off their spidy-skills – or take a smaller group to a rock-climbing centre.
Age nine to twelve: By around Year Four and Five, many children are in more defined friendship groups and starting to prefer smaller parties of no more than six or eight. Discretion is key here.
If your child's heart is set on a party venue that is expensive, like a theme park, see if there is a classmate who shares some of the same friends, with a birthday in the same term you can share it with. Agree on a date somewhere in the middle of their birthdays.
Keep in mind your kids love you for how much you know and listen to them – not for how much cash you throw at a once-a-year event. Ultimately remember that a kid's birthday party can be child's play – as long as you keep it about the child.
Helping to reduce the costs and take the stress out of children's party planning, leading digital retailer Argos has launched a dedicated online hub, The Birthday Club, offering parents 20% off all party supplies and children's gifts in a one-stop party shop.
James also has some fantastic tips for party-dodging parents so they can take on the challenge and win!
Preparing the perfect party room:
Clear as much stuff away as possible to make the room as big as you can.
Decorations don't need to be complicated – balloons, bunting and fairy lights are affordable and excellent for creating a party atmosphere!
Keep chattering parents out of the party room (unless they are there to help and join in). Parental noise distracts the children
Music maestro:
Prepare a playlist of fast, upbeat tunes. For many games, this is the only prop you'll need and make sure the music is loud enough for the room
Games – keep the party hopping: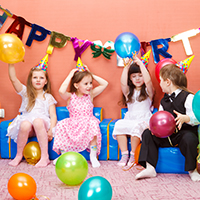 Make a list of at least eight games and bank on them lasting no longer than six minutes each. You don't have to use them all but it's much better than running out of things to do
Remember to keep games short so the children keep interested and make sure you keep in control of the games
Top five fail safe party games:
Musical Statues/Musical Ugly Faces – the statues have to pull silly faces
Pass the Parcel – with a sweet in every wrapper and a prize for the winner at the end. This can be kept quite lengthy with lots of applauses and keeping the parcel moving
Musical Chairs/Shark! – instead of chairs, place cushions on the floor to be a raft (saves space and makes the traditional game more fun). The raft gets smaller each round
Dinosaur's Footsteps – a twist on Grandmother's footsteps / What's the time Mr Wolf where everyone is a dinosaur
Sleeping Lions – a great game to play towards the end of a party to calm children down before eating/being collected
Timings on the big day:
There is nothing more terrifying than a room full of bored children. If you haven't planned properly, then you could be inviting chaos
An overview of a 2 hour party could therefore work as follows:
3pm – welcome/arrival (10mins)
3.10-3.55pm – games or activity (45mins)
4pm  – tea and cake moment (20mins)
4.40pm – show/further games (30mins)
4.50pm – dancing/free fun/goodbyes (10mins)
5pm – end
If other parents or family members want to get involved and help out, let them – sharing the load helps to make the day less stressful
Use an online resource such as The Argos Birthday Club Party Planner to plan ahead, save money and get organised for the big day
Prizes – guaranteed to put a smile on the children's faces:
Make sure you have plenty of small prizes to give out. Sweets and small toys work really well for prizes and goody bag fillers. The Argos Birthday club website has some great tips and offers on party bag fillers
It is important to remember that the winning of the prize and the round of applause should be much more exciting than the prize itself, have a look at the Chad Valley range for some great ideas
Food, glorious food:
You can either do this as a picnic (on blankets to save any mess) on the floor, or everyone can sit around a table – maybe in a different room
Keep food simple. I recommend sandwiches, a selection of fruit and veg, crisps, chocolate biscuits and cartons of fruit juice
Be prepared for wastage (so don't go overboard) and don't let it drag on too long. 20 minutes should be plenty of time for the children to eat and refresh with a drink
Bring out the cake (with candles) at the end of tea for the happy birthday moment but don't worry about giving out any cake-put a slice in each goodie bag for the children to take away
Goody bags:
Don't listen to stories about expensive goodie bags. If they've had a good time, then will be delighted with a lollipop, a bouncy ball, a notepad and pen and a slice of cake.
Author: Tanith Carey is an award-winning journalist and author, who writes for a variety of publications across the world, including The Guardian, The Independent, The Daily Telegraph, The Daily Mail, The New Statesman and The Huffington Post, among others. She has also written seven books.