Get Back-to-School Ready in 30 Days for FREE! + Get a FREE Rewards Book
Valid from 1 Sep 2023 to 30 Nov 2023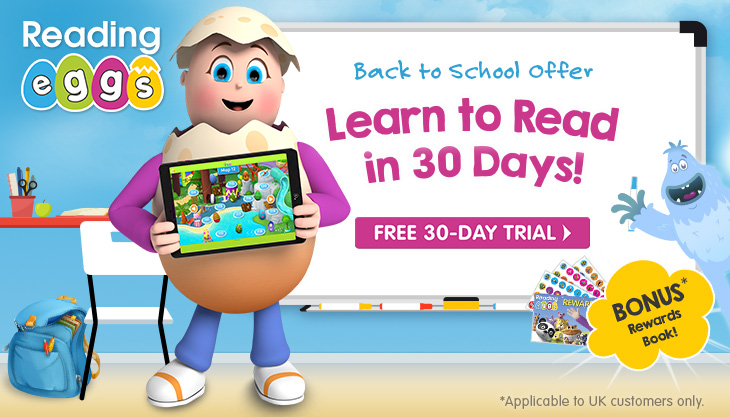 Help your child get back-to-school ready with Reading Eggs & Mathseeds' 30 day FREE trial!
Reading Eggs and Mathseeds make learning literacy and numeracy easy and fun for young kids, and it's proven to work in just 15 minutes a day. Perfect for back-to-school preparation and cleverly designed to grow with your child, 91% of parents see an improvement within just a few short weeks.
Plus, get a FREE Rewards Book with your trial. The bonus Rewards Book is packed with over 200 stickers and is a wonderful way to reward children for their progress in the Reading Eggs program! Your child will delight in using the stickers to mark their achievements, while you read overviews of the sounds, skills and words covered in each lesson.
Enjoyed by over 20 million children worldwide, Reading Eggs and Mathseeds are proven to help your child learn reading and maths and support school learning as they learn through play. A great way to fit in some positive screen time, access all five programs for up to FOUR children!
Log in or sign up to get this voucher!
To redeem ths offer all you need to do is login or sign up - you will then be given a username and password to use when booking online.
Terms & Conditions
*This 30‑day free trial offer allows you to add up to 4 children. You will be charged at the end of your trial period unless you cancel before this time. You can cancel any time by selecting the 'Cancel Subscription' option located on the 'Manage My Subscription' page in your family dashboard. Offer is valid for new UK customers only. Rewards Books while stocks last.
All offers featured from 3rd party advertisers are subject to change at any time and are not directly linked with Raring2go!
Related Vouchers & Offers