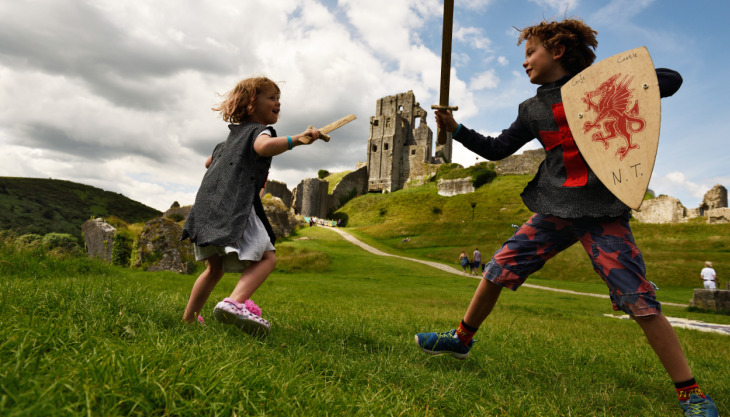 What's on at Corfe Castle this summer
Summer, family fun at Corfe Castle
The Castle the King Built trail with Nosy Crow (May to September)
Discover the characters of the book hidden around the castle ruins. As you seek out each character, learn a little more about their real-life role at Corfe Castle'. Masons, Minstrels, Servants and Kings all play a part in the Corfe Castle story. Which of these colourful characters will you discover to be your favourite?
Corfe before the castle (Saturday 23rd to Sunday 31st July)
The Wessex Ancient Network invite you to delve into the past with interactive displays, talks and activities. Discover the pre-history of Corfe Castle and the story of the people and the landscape that were there before the castle was built. Listen to talks, absorb displays and get involved with interactive activities such as 'The Dig'.
Festival of Archaeology (Sunday 31st July)
Join the Council for British Archaeology and the National Trust to celebrate the end of the national festival here at Corfe Castle. With free admission to the castle grounds, we celebrate the creativity and fun that can be had with archaeology. With free admission to the castle grounds, we celebrate the creativity and fun that can be had with archaeology with a focus on Archaeological Experiences. We welcome families and children to the fun filled day. There will be talks and demonstrations in the Outer Bailey of Corfe Castle.
The National Trust is proud to support the Council for British Archaeology's Festival of Archaeology, the UK's biggest annual celebration of archaeology. During these two weeks, properties will deliver activities to engage members and visitors with archaeology – exploring the human stories of our places and connecting them to the environment.  Across the National Trust, there will be a range of digital and in-person activities including an archaeology-themed family fun day at Corfe Castle on the 31st July with stalls, talks and hands-on experiences.
Historic Games at Corfe Castle (Monday 1st August – mid September)
At Corfe Castle this summer, discover a plethora of historic games and activities. Get involved with self-led activities that are fun for all the family. Hunt around the ruins to unveil a new adventure. Games include archery, hand tennis, tug of war and much more
Summer Outdoor Entertainment at Corfe Castle
This summer Corfe Castle will play host to outdoor theatre evenings and open-air cinemas.
Thursday Theatre at Corfe Castle: This summer holidays enjoy a different production each Thursday night. From Cinderella to Shakespeare there's something for everyone.
Outdoor Cinema: Corfe Castle welcomes back the Purbeck Film festival for the August bank holiday weekend. Finish your summer holidays with a special treat of a film in the historic ruins of Corfe Castle.
Booking essential, please see website for further details about performances.
https://www.nationaltrust.org.uk/corfe-castle/whats-on
For more summer fun for families see our What's On Guide!