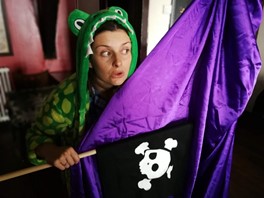 A bedtime show from Hoglets Theatre Company complete with puppets, songs and storytelling.
What happens when you just can't sleep? And what's that singing through the cupboard door? On his first night in a new house, a young boy called Bear faces his fears, heads through his creepy cupboard door and discovers an incredible adventure on the other side. A magical tale of overcoming fears, adapted from an original story by Gemma Sharp.
Suggested donation £4
A Ripon Theatre Festival Event.