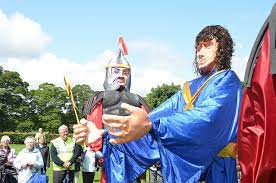 Saturday 25 June
Procession starts at 11am, St Peter's Church, St Albans
Join us for the Alban Pilgrimage – a magnificent procession organised by St Albans Cathedral, to celebrate St Alban, Britain's first saint.
Each year, 12ft tall carnival puppets, representing figures from the story of St Alban, take to the streets to reenact the historic events which lead to St Alban's execution at the hands of the Romans. The puppets are accompanied by people of all ages dressed as lions, Roman soldiers, angels, chariots and more, resulting in a stunning spectacle of colour and celebration.
At 12noon all are invited to join our Choral Eucharist, with preacher Paula Gooder, Chancellor of St Paul's Cathedral.
At 4pm, join us for Evensong, where Inderjit Bhogal OBE will preach. This service ends with a procession to the shrine of St Alban, where red roses are placed on the shrine in an act of remembrance.