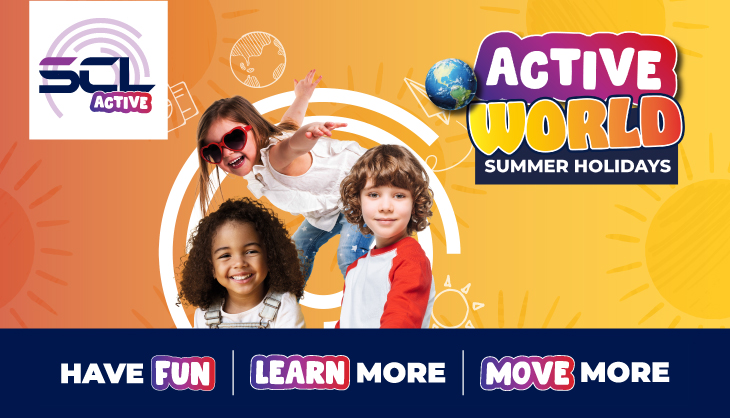 SCL ACTIVE WORLD – VARIOUS LOCATIONS – SUMMER HOLIDAY CLUB 2022
SCL ACTIVE WORLD SUMMER HOLIDAY CLUB 2022
BOOK NOW FOR SUMMER!
Click Here for Holiday Camp Locations
SCL ACTIVE WORLD SUMMER HOLIDAY CLUB 2022
BOOK NOW FOR 25TH JULY – 31ST AUGUST
SCL Active World Summer Holiday Club inspires your child to explore the world around them through learning and play as they take part in 6 weeks of fun! With over 30 themed activities including sports, group games and creative arts and crafts, your child will embark on an exciting adventure to every continent on the map and even discover the creatures living at the very bottom of the deep blue sea.
Every activity has been designed and tailored to each age group to ensure maximum enjoyment, from creating Moana's Raft to playing American Football for the younger children, to Painting Cherry Blossoms and playing Aussie Rules Football for the older groups.
COVID-SAFE HOLIDAY CLUBS
We will be operating our summer holiday clubs with your child's safety and wellbeing at the forefront, following our Covid-Safe Operating Procedures advised by the latest guidelines from the government and Department for Education. To read more about what safety procedures we have in place, please visit our website.
ACTIVE HOLIDAY CLUBS
SCL has over 20 years' experience in running holiday clubs across the South East, so we know how to make the holidays amazing for your children.
Each year we transform the school holidays for over 14,000 children!
Our Ofsted registered multi-activity clubs are designed to engage and entertain children of all interests, aged 4* to 12 years. Our structured programme means that your child is kept busy throughout the day and the development of skills, confidence and friendships are at the forefront of what we do.
BOOK NOW: https://bit.ly/3N9DfpJ
*Open to children in reception year and above.