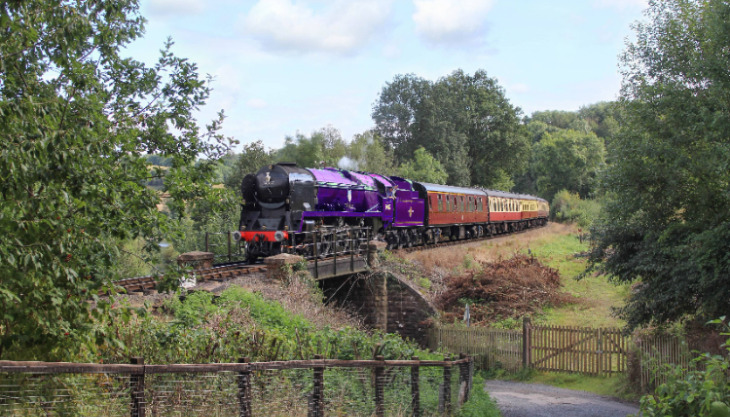 Queen's Baton Relay comes to the SVR
See the Queen's Baton Relay at the Steam Valley Railway
The SVR will be hosting a section of the Birmingham 2022 Queen's Baton Relay in the final build-up to the Commonwealth Games this summer.
It will travel along the line, hauled very appropriately by No. 70 'Elizabeth II', the steam locomotive recently painted purple and silver to commemorate the Queen's Platinum Jubilee.
The Baton will arrive at Kidderminster Town station on Saturday 23rd July, where it will be greeted by members of the community and a 'guard of honour' made up of SVR volunteers.  It will then commence its journey along the full length of the line to Bridgnorth.
Seats on the special service will be allocated in a ballot and will be free of charge. Viewing spaces at both Kidderminster and Bridgnorth stations will also be allocated by ballot in order to control numbers. People can pre-register to receive further details about the ballots at www.svr.co.uk/QueensBatonRelay
After the Baton is welcomed by volunteers at Bridgnorth, it will leave the Severn Valley Railway and begin a series of appearances in the town, which will include Severn Park and the Cliff Railway. Throughout the day, the Baton will be carried by a number of Batonbearers, chosen by the Queen's Baton Relay organisers.
The special Baton service on 23rd July will begin the Severn Valley Railway's 'Summer of Sport' season, which sees six weeks of sport-themed fun and activities throughout the school holidays.
Tickets for all SVR services can be booked at www.svr.co.uk.