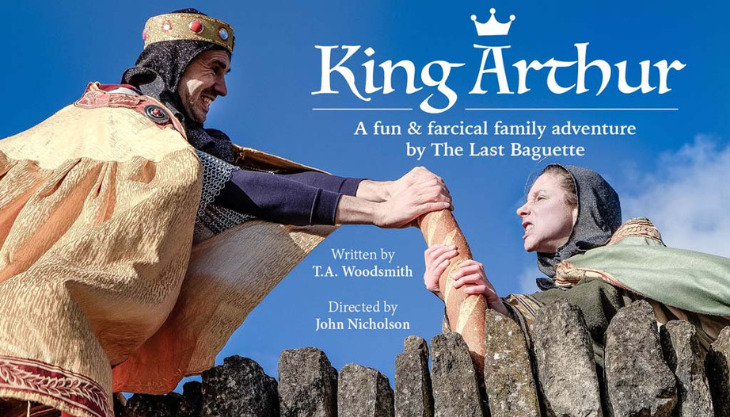 King Arthur – Family Show Adventure
A Courtyard Fundraiser at Swinmoor Farm, Madley, HR2 9JD
King Arthur – A fun & farcical family adventure by The Last Baguette
Directed by John Nicholson and written by Tiff Woodsmith.
Somewhere in Britain, a long time ago, a very, very, very long time ago. So long ago that nobody quite knows whether it happened or not. Or where it happened or not.
A boy pulled a sword from a stone and became King. A story of the old world, with knights, wizards, mist and magic.
This fun and farcical adventure is a deliberately anarchic and anachronistic re-telling of the Arthurian Legend with live music, physical comedy and lo-fi acrobatics. And some silly jokes…
The Last Baguette makes entertaining, accessible and eccentric work for family audiences and is company in residence at Pound Arts, Corsham. The company was formed from a shared love of theatre, bakery and humour in Paris by graduates of the Philippe Gaulier and Jacques Lecoq schools.
Joanna Cobb, Chair of The Courtyard Trust Board, has opened up the grounds to her beautiful farm for this very special outdoor family performance.
Bring your own picnic blanket or chairs. In the event of inclement weather, the show will be moved undercover. Ample Free Car Parking.
Don't forget to order a picnic box treat!