Half Day Abstract Painting Workshop (adults & children)
Half Day Workshops 10am – 1pm
Abstract Painting
Express your inner self and let yourself go as you free your mind of everyday objects allowing the ink to find its own place on the calico fabric. Paint brushes are banned and the only tools available will be a teaspoon, a palette knife and your hands. Gloves will be provided.
It is likely that your painting will still be wet at the end of the class and I shall retain this until it is completely dry, one to two weeks, it will then be sealed and I will either post it to you or if you able you may wish to collect it.
This course is suitable for children as well as adults.  Visit the website here for further information and to book.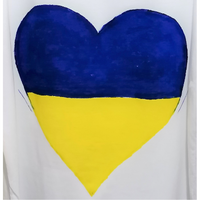 I am sure each of us would like to be able to do more to support the people of Ukraine and for me it is important to continue to donate money to those who work with several charities, and can prioritise and react to changing needs as they arise and I have chosen the "Ukraine Humanitarian Appeal" www.dec.org.uk/appeal-ukraine-humanitarian-appeal. To enable me to do this and for you to help the Ukrainian people I am offering you the opportunity to paint the flag of Ukraine, in a design of your choice, on a short-sleeved T-Shirt which I will provide and in return I will donate £10 from each booking. I have inserted this extra element to the existing workshop, Abstract Painting, at no extra charge to you. Further expenses have arisen, but I shall bear the cost of these myself. Further details of the entire workshop can be found on my website www.thecreativegranary.online where you can book or contact me direct.