Diversity: Connected 2022 at The Alexandra Theatre
14 – 16 April 2022  and 13 – 14 June 2022 at Birmingham Alexandra Theatre.
Raring2go! Review:
"Last night my family and I got to see the fantastic Diversity: Connected 2022 show at The Alexandra Theatre in Birmingham.
Wow! It's been a few years since we last saw them perform, but they haven't lost their magic touch. They have raised the bar again.
The show was creative, mesmerising, and very thought-provoking too. Where once Diversity were just considered a dance act, this fast-paced performance was an amalgamation of incredible dance moves, storytelling, acrobatics, high tech visuals, drones and even magic!
Diversity are very adept at evolving with the times, reading the mood of the nation and adapting their act accordingly.
The theme of this show was a reflection on the digital age and how the internet connects us all in one way or another.
Too often we hear of the negative impact of social media, and whilst this is important to acknowledge, it was also refreshing to see a light shone (metaphorically and physically) on the positive side of the internet: a communication platform during a global pandemic; a means of sharing family photos, of dating; of meeting people on the other side of the world.
Many of the younger generation see the benefits of this online era and indeed, it's all they have ever known.
In a show entitled, Connected, Diversity did a brilliant job of bridging that gap between parent and child – by presenting the world from by teenage daughter's perspective, so at the end of the night we felt a little more 'connected.'
My teen thought the show was 'well dank' – which I think means 'blooming marvellous' in old money 😊
You can catch the show when it returns to the Alex on 13-14 June."
Review by Sally Walters, Raring2go! editor.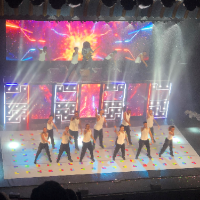 This tour is set to be even bigger, and as Diversity promised their fans on the Born Ready tour, they will continue the legacy of Diversity and never let anyone tell them they cannot achieve something. To take them into the new decade of Diversity, Ashley has created a new show, Connected, which centres around the world of social media, the internet, and the digital era we now live in, but more importantly how this connects us all.
About Diversity:
Diversity took the nation by storm when they won the third series of Britain's Got Talent in 2009 and have so far sold out nine UK and Irish tours, sold over 600,000 tickets, with countless television and live performances.  Over the past 12 years thanks to the overwhelming support of their fans and the British public they have continued to wow audiences and inspire people around the world.
Apart from their incredible live shows, Diversity are undoubtedly certified TV superstars. Ashley Banjo returned as a judge on Dancing on Ice earlier this year.  Ashley is also host and creative in the BAFTA nominated The Real Full Monty and International Emmy Award, Broadcast Award, and Royal Television Society award winning The Real Full Monty: Ladies Night, with both shows raising awareness of Prostate and Breast Cancer respectively. Ashley was also behind two hit series of Flirty Dancing on Channel 4 and appeared as a guest judge in place of Simon Cowell on ITV's Britain's Got Talent last year. He is hosting a brand new Saturday night show for ITV, The Void that will be airing in July 2021.
Fellow Diversity member Jordan Banjo hosted two series of BBC 1's primetime and BAFTA nominated show The Greatest Dancer. Jordan along with Perri Kiely are also part of breakfast radio royalty, presenting Kiss Breakfast every weekday. Collectively Diversity have just been nominated for Virgin Media's Must-See Moment of 2020 at the British Academy Television Awards in June for their incredible Britain's Got Talent routine inspired by the events of last year.
This is bound to be a popular show. Book here.
Address: The Alexandra Theatre, Suffolk Queensway, Birmingham, B5 4DS