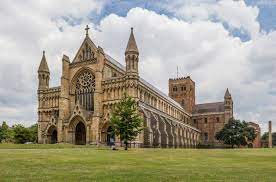 Join our weekly get-togethers for toddlers and their carers
Abbey Tots is a fun, social, interactive group that warmly welcomes pre-school age children and anyone who cares for them. We provide toys and craft activities throughout the session before ending our time together with music, singing and stories.
Drinks are available for all and a healthy snack will be provided for children.
We look forward to welcoming you.
When?
Tuesdays, 10 – 11.30am
Where?
Offa Room (level -1), located in the Cathedral's Welcome Centre.
How to Book?
We are limited in the number of adults we can accommodate at each session. For this reason, we ask those adults bringing children to book a free adult ticket using the booking system below.
Please note: Only adults need a ticket. Children do not need their own ticket. During school holidays, school-aged children are not permitted to attend due to space restrictions.
If you are unable to attend the session you have booked, please let us know at boxoffice@stalbanscathedral.org