Hape, one of the largest wooden toy suppliers in the world, goes full steam ahead with its stylish and clever Railway Bucket Builder Set.
This great wooden railway playset will keep little ones entertained for hours, whether they're obsessed by trains or not!  Even the packaging becomes part of the toy, as the bucket doubles as a handy storage box and as a piece of scenery for the railway build.
The set contains 50 wooden railway pieces, including a free-wheeling locomotive, two carriages, two S-rails, eight curved rails, four straight rails, two irregular rails, one mountain-shaped rail, plus pine and leafy trees and a variety of signals.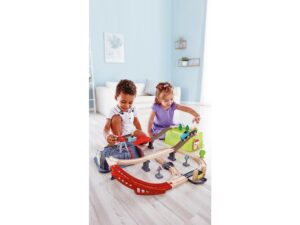 All the components and tools are designed for little hands and young skill levels, with smooth finishes and round edges.  And perfect for big imaginations, with the railway set encouraging role play and communication.
Children will love unpacking everything from the storage box, and then designing a track that incorporates the lid as a rocky mountain for the trains to navigate, or a town for passengers and cargo to move through, and with the upturned box as a hill for the train to climb.
The Hape wooden railway is compatible with other branded train sets, making it even greater value for money and providing extra play value