Is it time for your child to start swimming lessons but you're not sure where to start? Sending  children to their first swimming lesson can sometimes be a nerve-racking experience for both parents and children.  At WV Active Swim School, we're here to put you at ease and look after your child every step of the way.
Swimming lessons take place at two of our leisure centres: WV Active Central in Wolverhampton and WV Active Bilston – Bert Williams in Bilston. At WV Active Swim School we think it's important that all children have the chance to learn the vital life skill of swimming which is why we offer lessons for all ages and abilities.
Why your child should learn to swim
Aside from gaining a new skill, learning to swim will build your child's confidence in and out of the pool. Plus, it will keep your child healthy by improving their strength, stamina and flexibility. Swimming is also lots of fun; children often make friends in their swimming classes and don't realise they are learning whilst having an enjoyable experience. Ultimately, swimming is a lifesaving skill which is valuable for everyone to have.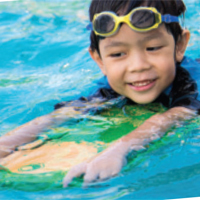 Why WV Active Swim School?
We pride ourselves in offering quality swimming lessons for all children who learn to swim with us. We do this by working in partnership with the Amateur Swimming Association (ASA). Our lessons follow the ASA learn to swim pathway and all our swimming instructors are ASA qualified. All pools are supervised by fully qualified Royal Life Saving Society (RLSS) lifeguards allowing your children to enjoy a safe and healthy environment at all times. At WV Active Swim School we believe we can bring out the best in your child whilst teaching them by ensuring they have a fun and enjoyable experience.
What you need to know
We've got lots more to tell you about our swimming lessons, but here are the important parts that we think you need to know:
We offer lessons to children of all abilities from the age of four
There is no joining fee and lessons cost £4 each (£40 for ten weeks)
We start with Ducklings for young beginners, Youth Classes for older beginners, and go right through to Rookie Lifeguard and Competitive Swimming
Rookie Lifeguard lessons are £5 per lesson (£50 for ten weeks)
All swimming lessons last for 25 minutes and lessons run all year round with a two week break at Christmas.
If you would like more information about swimming lessons at WV Active, visit wvactive.com
or call 01902 551010.