We are an outdoor activity, bushcraft and forest school provider based at Bodenham Arboretum in Kidderminster.
We provide opportunities for everyone, from families  and individuals, to schools and corporate groups to get outside for fun and curriculum linked activities.   Participants  can enjoy outdoor activities in a relaxed and spontaneous manner though a variety of focused and learner-led activities.  This allows the participant to develop and learn in a way that is beneficial to their development of self-esteem, confidence and respect and provide opportunities for an inquisitive and positive relationship with the natural world.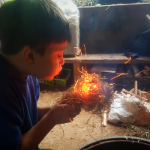 Outdoor activities:
– develops confidence and self-esteem;
–  develops  communication and social skills;
–   develops  physical skills;
–  develops  greater understanding and awareness of the natural environment;
–   develops  natural motivation and a positive attitude to learning;
– develops  the ability to recognise and manage risk;
– develops Healthier lifestyles.
–  Reduces stress
–  Improves mental health
–  Improves Wellbeing
TYPES OF ACTIVITIES:
Bushcraft
Forest School
Curriculum linked day trips for schools and groups
Den building
Fires and outdoor cooking
Natural Art
Mini beasts/pond dipping
Stream Damming
Natural Musical Instruments
Sculptures with Clay/ Natural materials
Backwoods cooking
We run Wilderness Explorer sessions each school holiday for different ages of children, and a special Under 5s session each Friday morning. Booking required.
Please head to the website for further details on all our activities, times and prices:
Directions
FOR SAT NAVS PLEASE INPUT DY11 5TB
Bodenham Arboretum is situated 20 miles west of Birmingham, 19 miles north of Worcester and three miles north of Kidderminster. Follow the brown signs "Bodenham Arboretum" westwards from Wolverley Church island along the B4189