Whyley Dance offers structured dance classes, looking at technique in a variety styles, creative work and an annual show to showcase our fantastic work. No exams – just lots of fun, with a professional, structured focus. we let the talent do the talking! Children can work towards Rainbow Badges to celebrate progress.
It's an exciting way to learn dance and stay fit and healthy. Dance, Ballet, Street and Zumba classes for all ages from children aged 4 to adults.
Dance is such an important part of a child's life as it helps develop confidence, social skills, movement memory and a creativity. Its a fantastic way  for children to express themselves.
Michelle Whyley is a fully qualified dance artist with qualifications such as advanced certificates in Ballet, Modern and Tap,GNVQs in performing arts, BTEC and a Degree in Dance  and experience of 22 years of training. She has been teaching dance for over 14 years. Whyley Dance has been established for over 10 years!
Venues:
Tuesdays Areley Kings Village hall
Wednesdays at Baxter College in Kidderminster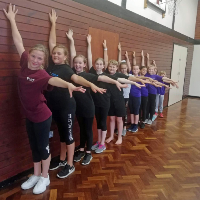 Find me on facebook or call 07979 123565 to book
Also: we offer Dance Birthday parties for children age 3 up. You find the venue and I entertain. Theme customised to each party. 
Contact details are below.