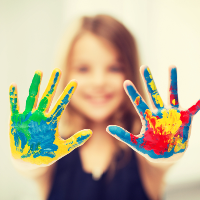 Childminding
TOTS ARE US understand that leaving your child can be daunting regardless of whether they are your first, second or third. We want your child to feel like our childminding setting is their home away from home where they are surrounded by lovely friends, people who care about them and lots and lots of FUN.  
We are available for childcare between the hours of 06:00 and 20:00 7 days a week although childcare outside of these hours can be discussed. TOTS ARE US can also provide children with healthy meals and snacks throughout the day. We have experience of catering for those with food intolerances with one of our family members suffering from various allergies. We will cater for any child who also has a food intolerance where possible however it must be noted that this food will be prepared in the same kitchen as other foods.
TOTS ARE US also offer school drop off and pick up. We are currently committed to this at St Oswalds RC School in Gosforth however due to their early start time is it possible to drop off and pick up at another school in the area.
A lot of parents have flexible working contracts where their work patterns vary from week to week which can make finding childcare a real struggle without the help of family and friends. TOTS ARE US fill this gap allowing parents to commit to a set number of hours per week and inform us of their working hours when they get their shift pattern.
Before your child starts with TOTS ARE US we like to schedule some staggered days where they can come along with you to get to know us and vice versa and another without the parents as we believe it is in your childs best interest to help their transition. We also encourage all parents to complete an about me so that we can adapt activities/toys/games to suit your child. If you have more than one child in the care of TOTS ARE US we offer sibling discount.
Don't feel like you will miss out on what your child is up to! TOTS ARE US complete daily diaries to keep you informed on what your child has been doing, learning and any milestones they have hit so you feel like you have been part of their day. We know working parents are constantly busy and often time is limited at drop off and pick up so we discuss in what way you would like this to be communicated. We can do this by by compiling a diary, sending text messages, photo messages, emails etc. whatever is more convenient.
We also offer holiday clubs!
If you can manage school runs and childcare during term time but struggle during the school holidays, TOTS ARE US can help! We offer childcare purely for the holidays without commitment to every week of the year like most childminders require! 
We ask that you sign up to a set holiday period but there is no obligation to commit to another. If you only need childcare for 4 weeks of the 6 weeks holidays we can provide this for you.
Each contract is individually tailored to your own needs. If there is something we haven't mentioned as a service that you require just ask! We cater for almost everything. If we can help, we will. 
TOTS ARE US know what its like to be a working parent and have children in childcare, we therefore try to make every parent's working life as seamless as possible. To discuss your requirements get in touch! TOTS ARE US will take the stress away!
Babysitting: we offer regular or one off babysitting services wether this is for a wedding, a party or just a well earned night out. Get in touch with Tots are Us to see what we can help with.
The activities we do with your child will vary depending on their age and the time you require us but we like to make it as fun filled as possible.
We must stress that we do not offer overnight stays at the TOTS ARE US home but we will stay at your home until whatever time you need us including overnight.
Whatever your childcare needs are, talk to Tots Are Us, we may be able to provide the ideal solution.