The UK's national cultural centre for videogames.
Our museum, right in the heart of Sheffield, explores the world of videogames.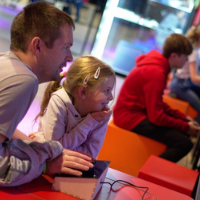 Here, you can explore how they are made, who makes them, and even why they are made.
You can play them and make them.
You can attend workshops to learn how they are made.
You can discover careers within the UK's fastest growing creative industry.
You can even have your birthday party here – perfect for game lovers!
The perfect day out for those that love videogames.
Buy tickets using the online portal below, to be sure that there is availability when you want to visit.
Opening times:
Friday: 13:00 – 16:30
Saturday: 10:00 – 12:30 & 14:00 – 16:30
Sunday: 10:00 – 12:30 & 14:00 – 16:30
Ticket prices start from £8.
Where to Park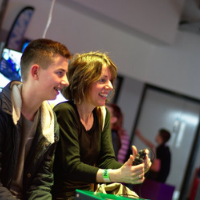 If you park at NCP Hartshead Square it's a 2 minute walk from the museum and we're able to offer you 24 hour parking at £7.20. Ask at the box office for a car park validation ticket (subject to availability).
Public Transport
By Train – The NVM is a short 8 minute walk from the train station.
By Tram – Castle Square is the nearest tram stop to the NVM, it's about a 30 second walk from the entrance.
By Bus – We're right in Sheffield city centre so we're easy to reach by bus use Travel South Yorkshire journey planner to help you get here
Accessibility
The NVM has step-free access from Angel street, and is all on one floor, which means that the entire Museum is accessible to wheelchair users.
The museum is loud and it can be an overwhelming experience for those with sensory sensitivity – we'll advertise times when we'll turn the volume and the lights down – please keep an eye on our calendar.