The Magic Bean Coffee Shop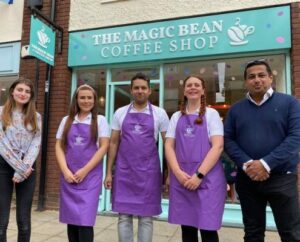 Here at The Magic Bean Coffee Shop, we're so excited to bring you Solihull's first not for profit wellbeing family coffee shop complete with a FREE ACTIVITY ROOM!
Offering you the latest amazing selection of coffee and teas with a delicious range of fresh food. Choose from sandwiches, smoothies, milkshakes and locally baked cakes and biscuits.
Come in and enjoy a relaxing coffee with family while your children can enjoy an array of activities on offer in our family activity room with one of our play workers on hand.  We also run bookable sessions for more exclusive needs.  To book on, click here.
Every Penny goes back into providing support for children in our local community through Ordinary Magic.
Workshops and Parents and Kids Clubs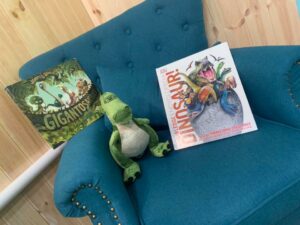 There are a range of workshops and sessions for children and parents at The Magic Bean Coffee Shop. All are free and there is no need to book – just turn up.
Current regular weekly sessions include:
Preschool sensory club – each week a different activity is lead by a play worker – every Tuesday in term time 10:00 – 11:00.
Preschool craft club – each week a different activity is lead by a play worker – every Thursday in term time 10:00 – 11:00.
Preschool around the world club – each week will be a different activity based on different country or place around the world lead by a play worker – every Wednesday in term time 1:30 – 2:30.
Nurture Groups – a chance for parents to meet and seek support while children enjoy mindful crafts – every Tuesday and Thursday from 4:00pm for ages 4+.
The Magic Kidz Book Club – lead by play worker Freya – 2:00pm ages 6-10/ 3:00pm ages 10-13.
Look our for fun days and groups throughout the year.
Afternoon Tea Themed Parties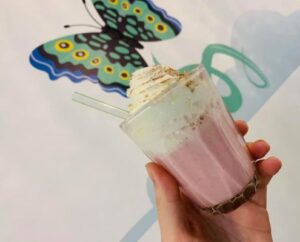 We offer several types of party options here at The Magic Bean Coffee Shop.  What we can promise you for all types is that your child will have a fantastic time and will be treated like a prince or princess!  We can accommodate parties from 2 children up to 20 with various party packages available.   ALL party celebrations include a play experience in our activity room and reserved space within our coffee shop for your special ones party.  Tables will be decorated.  Parents are required to stay for all parties and are able to purchase a selection of hot and cold drinks as well as cakes and food if they wish.
Afternoon Tea Party £8.99 – 90 mins
To include 1 scoop of Henley's ice cream with a choice of sprinkles, flake and sauce £10.99 per child.
This includes a reserved tea party table with tea party stands to include a selection of sandwiches, fresh fruit, crackers and cheese, humus and crudités and cupcakes.  This is for a maximum of 8 children.   Table will be decorated in an 'Afternoon Tea' style complete with patterned tablecloths, bunting and afternoon tea stands for the children to enjoy.  Virtual invitations will also be included in the cost sent directly to your email.
There will be a play worker to provide fun play in our activity room.  Please note that the coffee shop will be open to other customers and there may be other children using the activity room.
Times vary, please enquire for availability.
Exclusive Hire Birthday Party
For a more intimate and private party with family and friends, or perhaps a shared party.  We have two options for exclusive use and can accommodate up to 20 children.  Each option will be exclusive use of our coffee shop, your choice of party music, use of the activity room with activities and arts and crafts, your very own party leader for the children who can host, run party games and arts and crafts ,and a selection of fresh food and cupcakes served on our afternoon tea stands.  The children's main table will be decorated Afternoon Tea style.  The cost also includes 1 scoop of ice cream for each child.  Virtual invitations are also included and sent directly to your email.
Weekday Exclusive Hire
Exclusive hire birthday parties are available to book at 5.15pm during term time for a fixed cost of £200. On bank holidays and during school holidays will be £250.
Weekday Hire 5.15pm – 6.45pm
Weekend Exclusive Hire
Exclusive Hire of The Magic Bean Coffee Shop is available:
Saturday 5.15pm – 6.45pm
Sunday 4.15pm-5.45pm
All at a set price of £250.