The Codsall Hive is a café like none you have ever been to before!
A place where you can get great Coffee, delicious cake and a generous helping of arty fun to feed your creative appetite too!
Set in the heart of Codsall, Staffordshire – the Creative County – our Arts and Crafts café offers a wide selection of drop-in activities, classes, clubs, Arty Party ideas for children as well as a range of creative workshops and evenings for adults.
Everyday Café Activities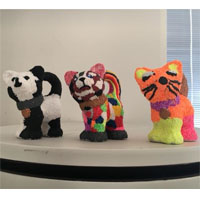 If you drop into our café at a time to suit you these are the creative activities we have on offer every day to do at your table.
Ceramic painting – our speciality! See bisque items available to paint, prices vary but all pottery painting is subject to a £2.99 studio fee to cover paint, glazing and firing. Please note these items need to be fired and collected in 7-10 days.
Decopatch. Decorate either mache or ceramic items with decorative papers, a take-home-today activity. Great for homemade gifts. Not recommended for under 7's.
Foam Clay. Similar to Decopatch Foam Clay can be used to cover mache or ceramic items making a perfect gift to take home today. Suitable for all ages.
CRAFTS FOR YOUNGER CHILDREN
Clay Play. Ball of clay, tools and a selection of matchsticks, wiggly eyes and feathers to create clay models.
Badgemaking or Keyrings. Design as many as you like then choose your favourite two to make into badges or keyrings.
Cardmaking. Create your own greeting card for a birthday or other occasion. A cutting and sticking activity with 2 sheets of card for your creation.
Feature Craft. Ask us about our current feature craft activity.
Create a Crown or Sword. Decorate with felt pens and embellish with sparklies to create your eye-catching accessory.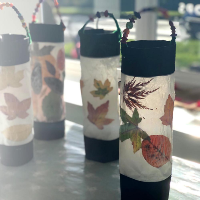 Busy Little Bee Pre-Schooler Sessions
Our BUSY LITTLE BEE pre-schooler sessions are the ideal opportunity for you and your child to make a regular date to get creative, get messy and to experiment with a variety of materials and projects every week. Even better you won't need to clear up afterwards! Join one of our classes and make new friends while making unique artwork to treasure forever.
The Busy Little Bees sessions provide an excellent foundation for the Early Years Foundation they will follow at school and are an excellent environment for developing social skills amongst their peers. Classes are booked in 6-week blocks to reserve your space at the same time each week. Classes only run during term-time.
Classes are small with a maximum of 10 children per class, parents/guardians remain with the child for sessions as this is a parent & child learning experience.
Busy Little Bee sessions run term-time only, Mondays 10-11am, Tuesdays 11am, Thursdays 2pm and Fridays at 9.30am. The Busy Little Bees Programme, suitable from 2 years upwards. £4.90 per session, includes juice and a biscuit afterwards.
Baby Bees
Our 6-week programs are designed to present parents and babies with a new environment each week full of safe and interesting materials, messy or sensory activities for them to explore.
When toddlers make an enjoyable discovery they often repeat the action several times to test the result, which strengthens cognitive development as well as fine muscle control and hand/eye coordination.
As well as creating the perfect environment for babies to come together, our Baby Bee classes are a great way to meet other new mums and to exchange baby development milestones or challenges.
You will over the course create a number of keepsakes or fun art projects including a large canvas of your child's footprint art, their very first work of art to keep forever!
Contact us for the next course dates and times.
Arty-Party
Parties are for a minimum of 10 children and a maximum of 18. Parties last for 2 hours except for pre-schooler parties which are 1.5hrs, all parties include a half-hour for food. Party slots are Saturdays 11-1pm and 3-5pm or after-school 3.30-5.30pm on certain days of the week as available, ask us to check the diary!