Swimkidz Surrey – swimming lessons for bump, babies and beyond…
Swimkidz baby swimming lessons offer an innovative and unique baby swimming programme that begins during pregnancy and continues past birth.
Parents can rest assured and have the confidence that we can help to keep them fit both pre-and post-natal, and can continue their child's aquatic journey in a safe, caring environment up to their tenth birthday.
E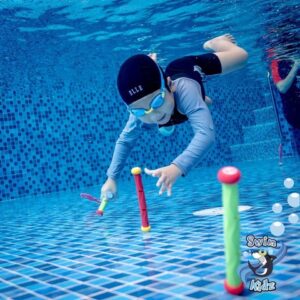 very member of the team has taken part in a very comprehensive training programme that is recognised both nationally and internationally.  The programme not only covers teaching for babies and toddlers but also teaching up to pre-competitive swimming stage. This means the whole programme has been carefully put together and that the foundations are solid, ensuring you and your child are learning from the very best.
Our parents often tell us that our lessons are worth every penny.   By investing heavily in training, only the best instructors will teach your little ones.  The pools are carefully selected for their suitably to ensure your baby's comfort safety and enjoyment.
SwimKidz Surrey create a fun learning environment with safety as priority, taking pride in each new skill that students master.
Please visit the website for more information on lessons with Swimkidz in Ottershaw, or Swimkidz in Farnborough, or Like on Facebook.
To find out more about local clubs/classes, please visit the Clubs/Classes section of the Raring2go! website.