Let's get this party started!
There are acres of farmyard fun to explore and awesome animal encounters to keep everyone entertained! You're in good hands at Farmer Palmers's; our care starts from your first enquiry to the party bags and memories you go home with, so you can relax and enjoy yourself (and there's no messy house to clear up afterwards!).  We provide everything, even the cake! All you need to do is round up those little Party People , they can even bring their parents too, as each child attending gets to bring two adults in free of charge!
How much?
We appreciate you want to squeeze more out of life, and your money, so our STAY ALL DAY birthday parties start from just £14.95 per head!
What's included?
Your own Party Room for the duration of your birthday meal, which will be set up our party team prior to your arrival. PLUS you can stay and play all day in the park and join in with the daily timetable of animal events
Hot or cold meal choices available
Mr Whippy ice cream after the meal
Farmer Palmer Cow Cake (a prop for the candle blowing ceremony) then Fresh vanilla sponge cake in the party bags (which also contain a terrific TY cuddly toy!)
FREE Tractor Trailer Ride (for all children attending the party AND the adults too!)
How to book?
Select the type of Party you require, the date and the time
Please book for the maximum number you are expecting on the system (it will only charge you the deposit for 8 children £119.60)
Select your meal choices and any other extras you require
You will receive an email when your booking is confirmed.
For further information on the booking process and FAQs please visit www.farmerpalmers.co.uk/birthday-parties/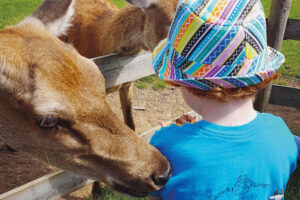 Farmer Palmer says . . . Our party packages are super popular so try and book your party at least 4 weeks in advance to avoid disappointment. We can comfortably cater up to 35 children if you'd like to hold a joint party with another family from your school/nursery group etc. And don't worry – if some guests can't make it, we'll only charge you on the day for the exact number of children who have attended*! Happy days!
Don't take our word for it . . . read what other parents have to say about Farmer Palmer parties!
"Ben had a fantastic day; he didn't stop smiling all day and was fast asleep by 6pm! Thank you to all the friendly, helpful staff who made it so much fun"
"Had our daughter's 6th birthday party here today and we cannot recommend it enough. So well organised allowing us freedom to wander around before our tractor ride and lunch. The party team were great. Girls loved it. Party bags were a hit with the children. After everyone had left we stayed a little longer. The price is fantastic