Celebrating 400 years of history, Stourbridge Glass Museum is an exciting new addition to the Black Country Heritage Trail – and a visit is sure to make for a perfect school holiday activity no matter what the weather's doing.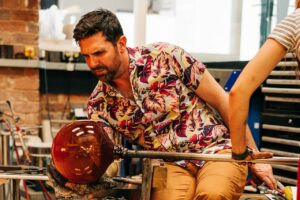 With points of interest for all ages, the Museum features engaging interactive displays and live glass making demonstrations designed to keep children and grown-ups enthralled for many hours.
Welcoming visitors from 9 April 2022, Museum goers will be impressed and fascinated as they're taken on a journey through time, charting Stourbridge's internationally important role in the evolution of the glass industry.
A highly immersive experience, the Museum sits across two floors of the former Stuart Crystal Works off the High Street in Wordsley.
The ground floor showcases glass making through the ages, using projected videos and audio to recreate the industrious atmosphere of glass making workshops.
Visitors can even sit in a real glass maker's chair as they see how traditional glassmaking tools are used in the process of firing and blowing a piece of glass, in addition to venturing into a glass cone as it was 200 years ago through a convincing 2.5D animation.
Alongside this is renowned glass artist Allister Malcolm's Hot Shop. Respected across the industry, Allister and his team will be giving regular demonstrations, providing an opportunity to witness a maestro creating glass art in real time.
Visitors will find the best of the globally significant Stourbridge Glass Collection featuring more than 600 pieces, most of which were produced in the local area.
The display cabinets are accompanied by a series of digital screens which allow Museum goers to design their own cameo masterpiece, one of the high points of glass techniques perfected in the local area.
Children are also encouraged to get creative with the Young Designer interactives and recreate their own glass designs. Once satisfied, visitors can email their finished designs to themselves or a friend.
In addition to the Museum's resident collection, there will be a visiting exhibition – with the inaugural display provided by internationally renowned artist Vanessa Cutler.
Titled 'Journeys and Horizons', Vanessa has produced a series of poignant and thought-provoking works depicting her daily coastal walks during lockdown and which are designed to demonstrate new beginnings.
Guided tours of the Museum are available for those who want to learn more about the stories behind the different pieces on display and what life was like in a glass workshop.
All in all, Stourbridge Glass Museum is sure to become a point of pride for the Black Country, staging a range of events and exhibitions to keep visitors from near and far coming back for more.
For further details please visit stourbridgeglassmuseum.org.uk