Enhancing lives through horses
Stepney Bank Stables is a unique equestrian centre situated in the heart of Newcastle upon Tyne.
Our superb team of qualified instructors and well mannered horses provide horse riding lessons ranging from beginner to advance.
Birthday Parties
Birthday parties are perfect if you want to do something completely different to make your child's party a memorable one!
The birthday boy or girl and up to five friends can come along and spend some time meeting, patting and grooming our ponies then riding their new equine friends!
Or you may wish to get straight on with the riding and opt for a riding only party, in which case our staff team will have the ponies sparkling and ready for guests to mount up and have fun! Parties are available on Sunday afternoons and during school holidays. You can also use our designated party room for food and games. All riding takes place in our indoor arena so rain will not spoil the party fun.
The birthday girl or boy will receive free membership to SBS if they aren't already a member, and as a special treat for all those that attend the party, each rider will receive a voucher for 50% off any level 1 or junior jockey lesson. (T&C's apply).
For further information please call 0191 2615544 or email info@stepneybank.co.uk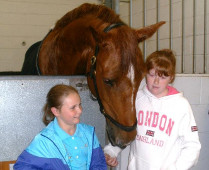 Stepney Bank Stables is approved by the British Horse Society and the Association of British Riding Schools. We are also a Pony Club Centre, this means that we have passed rigorous checks to ensure that our horses, facilities and equipment are fit for purpose and that our staff are appropriately qualified and skilled.
Stepney Bank Stables was honoured by 'Her Majesty The Queen' with the Queen's Golden Jubilee Award 2003. We have also been awarded Investing in Children Membership as a result of our continued commitment to involving young people in the planning and delivery of our work and were winners at the Charity Awards receiving a Judges Commendation for our work with children and young people in 2014.