Razzamataz Theatre Schools Wolverhampton
Calling all Wolverhampton Parents and Guardians!
Give your child the gift of confidence with our Award-Winning Performing Arts Classes
Our FUN, ACTION PACKED classes offer:
Dance
Drama
Singing
Fun Challenges
Key Life Skills
Interactive Education
Fitness and FUN!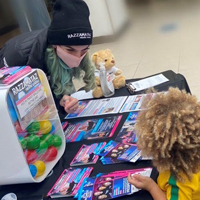 Join us for a FREE taster session with no obligation www.wolverhampton.razzamataz.co.uk/enrol-me/

Parent's and Guardian's Wish List!
Building self-confidence
Respect
Discipline
Good manners
Life skills
Internet safety
Self-control
Friendly family social environment
Making new friends
Improving self esteem
Strong mental health
Our Classes
Razz Minis (4-5 years)
Razz Juniors (6-8 years)
Razz Inters (9-11 years)
Razz Seniors (12-18 years)
Reserve your child's place at our award winning Razzamataz Theatre School!
Razzamataz Wolverhampton is proud to put the welfare of its students at the heart of everything it does.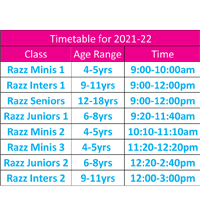 From providing affordable part-time performing arts training for children and young people throughout the UK, to giving them access to some of the most talented performers through specialist workshops and classes, Razzamataz Wolverhampton uses theatre arts within small class sizes to nurture a child's confidence and self-esteem, all while making sure they are having a lot of fun.
Come and join the Razzamataz family to experience a range of styles from classic West End musical theatre to funky street dance and pop singing. There are always lots of opportunities to perform for both boys and girls, from local theatres and festivals to the glittering lights of professional theatres! There's a place for every child in our Razzamataz Family.
Click the link below to book your place or send us a message
www.wolverhampton.razzamataz.co.uk/enrol-me
Facebook: @razzamatazwolverhampton
Instagram: @razzamatazwolverhampton Website: