Noodle Performance Arts – performing arts classes both you and your child will love
Noodle Performance Arts offers fun, informal and affordable performing arts and dance tuition in Sheffield. Our classes are held in venues across Sheffield and Rotherham for a range of ages starting from the moment your little one can walk.
Our experienced and friendly teachers will help your child fulfil their potential with energetic and imaginative sessions at parent-friendly prices. As well as teaching singing, dancing and drama, Noodle classes help your child develop valuable life skills, build their confidence and boost their self-esteem. Children also have the opportunity to take part in performances including our annual summer show.
Unlike some other performing arts and dance classes, we don't ask our children to wear a uniform or take nerve-wracking exams. Instead, the focus is on having fun, making friends and discovering new talents.
To find out more or book a free taster session, call Nikki on 07984 461711 or e-mail nikki@noodleperformancearts.com
We have classes in Beighton, Ecclesall, Totley, Hillsborough, Walkley, High Green, Ranmoor, Todwick, Broom, Wath, Wickersley and Stocksbridge.
The classes we offer are:
Performing Arts (age 3-16)
Our performing arts classes teach singing, dance and drama in one affordable hour-long session. Children learn valuable theatre skills but in a less intense and formal environment than traditional stage schools.
Noodle teachers are professional performers with extensive experience on the stage. They understand that no child is the same and our fun and friendly approach ensures we get the best out of all our pupils from the very shyest to the most boisterous.
Everyone taking one of our performing arts classes gets the chance to put their new skills into practice and show their family what they have learnt in an annual show and other performances. We have sessions which cater for preschool children and those at primary school as well as special classes for toddlers.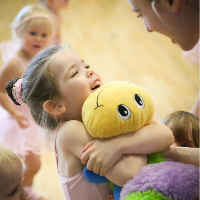 Noodle Ballet Tots (walking to age 3)
Ballet is a fantastic way of developing your child's co-ordination, posture and self-confidence. Noodle's Ballet Tots classes brings all the benefits of ballet to toddlers with a gentle, fun and engaging class which captures their imagination and allows them to express themselves.
The 30-minute parent and child sessions introduce basic ballet moves with fun activities, music and singing. Ballet Tots is suitable from walking age up to three-years-old and is perfect for both girls and boys. Ballet wear is not compulsory, although many of our little ones enjoy the opportunity to dress up. We have competitively priced ballet shoes and clothing available at our classes for those who would like it.
Noodle Tots (walking to age 3)
Noodle Tots is a great introduction to the performing arts for toddlers. The 30-minute classes use singing, music, dance and drama to help little ones develop their social skills, build their confidence and have lots and lots of fun.
Youngsters are welcome at our Noodle Tots classes from the moment they can walk until around the age of three. Creative games and activities capture the interest of even the smallest participants. Sessions are carried out with parents or carers but confident, older children can be left in class when you feel they are ready.
Noodle Ballet (age 3-11)
Our ballet classes are the perfect way to introduce your child to ballet. With classes from the age of three, youngsters get all the benefits of learning ballet but without the pressure of exams. Unlike many dance schools, we do not ask our children to buy a uniform and the lessons can be done in bare feet and comfortable clothing.
Learning ballet is great for your child's strength, control, posture and confidence. But at Noodle, the main focus is on enjoying dance and our classes are a fantastic place to make friends, have fun and learn new skills. All children taking Noodle Ballet classes are given the opportunity to take to the stage and perform at our annual show.
Street Dance (age 3-7)
Our energetic Funky Street Dance classes are suitable for children aged from three upwards. With street dance becoming more and more popular in the UK, this is the ideal introduction for young children.
The sessions are suitable for all abilities and are great exercise and lots of fun. Street dance helps develop teamwork skills and boosts confidence and self esteem.
NPA Academy – Ranmoor, Beighton & Stocksbridge
Our NPA Academy classes are the ideal way to nurture your child's talent and give them a thorough training in performance arts and musical theatre. Designed to run in parallel to Noodle's more informal performing arts classes, these sessions aim to challenge the children taking part and offer them in-depth tuition in theatre dance, singing and drama.
NPA Academy takes the very best elements of a traditional theatre school but offers an alternative which is fresh, exciting and affordable.  The weekly two hour sessions are suitable for children aged five to sixteen.  Students will rotate between sessions that cover acting for both stage and screen, pop singing, musical theatre and commercial and theatre dance. As well as working on scripts, choreographed routines and musical numbers, the classes will work on developing improvisation skills, improving confidence, audition techniques and much, much more.
NPA Popstar Academy
If your child dreams of being a popstar, we have the perfect class for them. Aimed at children aged 7-16, this class will let your child swap their hairbrush for a real microphone as they develop their vocal technique and performance skills.
NPA Popstar Academy classes will be taught by experienced performers who will be able to pass on what they have learnt during their time on the stage. As well as receiving vocal coaching, children will learn all about staging songs and routines and how to improve their performance.
At Noodle, we also offer a range of children's character and dance parties and full details can be found here.