Mini Rugby for Girls and Boys at Weybridge Vandals
Weybridge Vandals is a welcoming community sports club with an idyllic location on an island in the River Thames. Our rugby teams are open to all ages from 4 to 104, and our mini's section is a buzzing hive of activity every Sunday morning. There is no better way to have fun, make new friends and stay healthy than in a rugby club with family values at the centre of our success.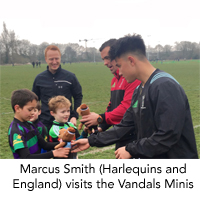 Boys and girls come down to the Weybridge Vandals mini's section to join in and enjoy themselves and get muddy! Mini rugby isn't just about exercise, though they'll get plenty of that, we aim to teach rugby's core values; Teamwork, Respect, Enjoyment, Discipline and Sportsmanship, all great lessons for on and off the pitch.
Below the age of 8, the children play tag rugby in small teams giving everyone a chance to get the ball and be part of the action. As they get older, other aspects of the game, such as tackling and kicking, are gradually introduced in coached and controlled stages that are set out by England Rugby. This gives everyone a chance to learn the game as they go. We are an accredited RFU club and are affiliated with Harlequins (players and coaches from both the men's and women's team often visit to meet the children), so you couldn't be in better hands.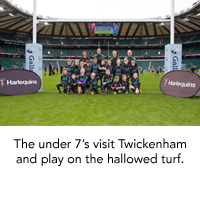 Vandals are not just about minis rugby. We have great teams at all age groups including a veterans squad, so parents and grandparents can join in on the action, not forgetting our netball and cricket teams!
The Vandals always welcome new members and are happy for children to try a few free sessions to see how much they love it; what's to lose?
The rugby season starts in September, come down at 10am any Sunday and experience it for yourselves.