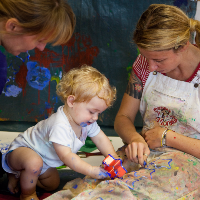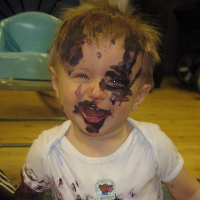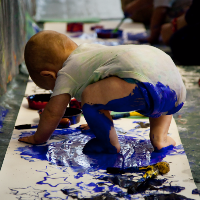 Come along to messy monkeys North Tyneside to squelch gloop, splash water and splodge paint…then we do the tidying up!
Every week there's a different theme with new goos and gloops to explore, we'll help you create something special to take home and we'll do the tidying up!
We hold sessions in Monkseaton and Brunton Park Gosforth.
Wrigglers, rollers, crawlers and cruisers are all welcome at the Baby Sessions which are structured especially for littlies.
Walkers and talkers can come to the Toddler Sessions where they have more freedom to create their own Messy Play.
We also offer Messy Parties which go down a treat and can be themed to make your little monkey's special day one to remember!
Our grown-ups have provided fantastic feedback over the years,
"messy monkeys is doing what I hoped; giving my baby the chance to get messy without having to mess my house, mixing with other children and experiencing different activities which I wouldn't have time to set up"
 "messy monkeys has been absolutely great, we really loved the laid back approach, felt really welcome and loved being able to enjoy getting messy with my son"
We'd love to meet you and your little one, so come and join messy monkeys to see what everyone is talking about!
For more information on session times and venues, or to book a place for your messy monkey visit the North-Tyneside website:
www.messy-monkeys.com/north-tyneside
or email helen@messy-monkeys.com