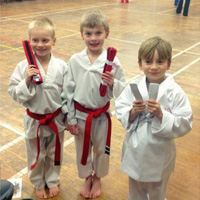 Lee Matthews British Military Martial Arts at Christchurch Junior School, Tettenhall, Wolverhampton
Turn off the TV and turn on the Martial Arts!
LITTLE NINJAS 4 – 7 year olds
Foundation course in martial arts, teaching discipline, respect, self control and fun, fun, fun! This fun filled programme is specifically designed to improve the basic motor skills of the children whilst developing important life skills, including CONFIDENCE, RESPECT, FOCUS, DISCIPLINE, COURAGE AND SELF CONTROL.
KIDS KARATE 8 – 11 year olds
Character education and discipline, anti bullying, non violent conflict avoidance and lots of fun. This is a very dynamic and exciting program that instills all the key skills highlight above through high energy lessons as well addressing important issues such as obesity and bullying
ADULTS  KICKBOXING
Triple fat burning cardio workout for adults only. Special beginners classes available.
Monday and Thursday at Christchurch Junior School Tettenhall.