Kidz Got Talent nurture and develop the stars of tomorrow and bring out the full potential in children and teenagers of all abilities to be confident and grow to fulfil their dreams and ambitions of whatever path they choose.
Kidz Got Talent is a performing arts school that provides an intimate, family-like environment for pupils who have shared passions and drive, helping create long-life friendships within our school and helping to nurture and develop creativity and talents on all levels  and abilities of the next generation, while building confidence and self-belief.
We offer a range of classes for every age group to suit various levels of experience and ability  including special classes for children with Downs Syndrome.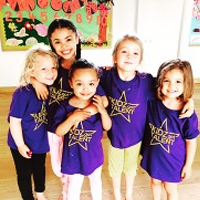 We give tuition in singing, drama & musical theatre. Classes are taught from the LAMDA syllabus and results from the examinations give points towards university, as well as offering acting/performing skills it also develops LIFE skills and  self confidence.
Here at Kidz Got Talent we want children and teenagers to be inspired and encouraged to pursue their dreams and ambitions no matter how big or small the goal is, anything is achievable.
Parents will be able to watch their child's progress at the end of each term and there is a yearly performance at a local theatre where family and friends can see what our students have achieved throughout the year.
Principal, Nicole, first trained as a dancer, and on leaving school trained in performing arts, and has also had extensive vocal training with Professor Mary Hammond at the Royal college of Music.  She has performed in many west End musicals including playing Nancy in Oliver (directed by Sam Mendez) and leading roles in 'Happy Days'( directed by Henry Winkler) Evita, West Side Story and more!  She has also appeared on TV, and has 27 years as a professional singer.  Nicole now wants to share her experiences with young people, and inspire the next generation to be confident in themselves, have self belief and help nurture and encourage them to develop their talents and creative gifts. With the right support and belief in your ability, any dream and aspiration is within your reach!