Holiday Activity Camp at Durham Climbing Centre
Children's activity camps run during school holidays offering full week climbing, team work and outdoor activities.
Breakfast club, afternoon snack and afternoon tea is included in all of our activity camps.
Activity camps run Monday to Friday, 8:30am – 5:30pm. An extended day option is available
Runs through most school holidays for latest details visit the Durham Climbing website and Durham Climbing Facebook page
There is also a Durham Climbing Facebook page specifically for Adventure Camps.
Durham Climbing Centre Activity Camps Offer:
High quality care from our staff team
High quality climbing coaching
Flexible day camp for working parents (8.30am – 5.30pm)
Early & Late Club (Normal drop off time is between 8.30am – 9.30am and collection between 4.30pm – 5.30pm). With our Early Club you can drop off from 8am and with the Late Club collect right up until 6pm. This extra time can provide you with more flexibility and you can be sure your kids are having a great time too. The Early and Late Clubs are only £4 per day and you only need to book them for the days you need them.
Wide range of activities, including sports, arts & crafts, bushcraft, team building
Great value for money
Breakfast, afternoon snack and afternoon hot meal provided.
10% Sibling Discount
Book for £20 deposit, per child per week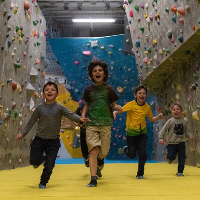 What's included?
Fully supervised activities all day from 8.30am – 5.30pm
Full day of rock climbing and team building activities provided each morning and afternoon of camp by Durham Climbing Centre Coaches.
Breakfast, afternoon tea, all snacks, milk, juice and water.
Breakfast Club available 8.30am – 9.30am
For more details call Durham Climbing Centre on 0191 378 9555