Jungle Rumble is the perfect location giving something for all the family to enjoy.  Whether you are booking a kids birthday party, a fun family outing in the afternoon, or even date night for Mum and Dad, Jungle Rumble Putney has got something to rumble up your routine!
Jungle Rumble Putney has THREE  amazing 9 hole adventure golf courses, a bar and fantastic food, situated directly on Putney High Street:
ROYAL TAHITI
The Royal Tahiti Links is our first course and has 9 holes of spectacular adventure golf fun. Packed with surprises,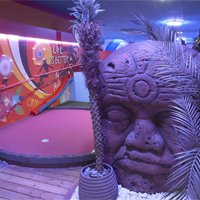 special effects and amazing scenery we love this course. This is the perfect start to your rumble in the jungle.
SURFERS
The Surfers Course is our second 9 hole course. This course requires skill to navigate some of our most fun but challenging holes. Loop the loops, a giant wave and all sorts of tricks make this is one course you will want to take on again and again. We provide the wave. You provide the attitude.
OCEAN
The Ocean Course is unique and completely unforgettable – as you travel into the depths of the sea enter a glow in the dark underwater adventure full of neon creatures.
Our fully stocked bar has you covered from beer and cocktails to juice and slushies – enjoy them in our bar, or even out on the course.
And don't forget to get stuck in to one of our freshly made pizzas or chicken burgers.
PICK UP YOUR PUTTERS AND LET'S GET PLAYING!