Brand new free live science show – Sparks – spectacular Planetarium shows, outdoor adventures, immersive exhibits and huge science demos
Where: Winchester Science Centre and Planetarium, Telegraph Way, Winchester, Hampshire, SO21 1HZ
When: Weekends and summer school holidays from 9th July to 11th September, including Hampshire summer school holidays from 21st July to 4th September
Times: 9.20am to 5pm (last entry 2.20pm)
Admission: All visits must be booked in advance via the website
Are you ready for an action-packed family adventure this summer? From 9th July to 11th September, including the summer school holidays from 21st July to 4th September, get set for electrifying science, out-of-this-world space journeys and outdoor nature explorations at Winchester Science Centre. Plug in and power up for a brand new exciting free live science show, Sparks, all about electricity. Be wowed by two spectacular Planetarium shows. Head off into the great outdoors for some nature discoveries. And don't miss out on the immersive hands-on science fun and huge 'don't try this at home' demos.
Sparks – free science show
Continuing Winchester Science Centre's 20 years of wow celebration, this summer visitors are invited to take a trip down memory with a return to the popular electricity show theme – but with a retro 2002 twist. Over the past 20 years the way we use electricity has radically changed as our use of personal technology has evolved. We rely so heavily on electricity to power our lives. But what is it and how is it generated? Let's find out together in Sparks.
Join the CEO of our noughties technology company, Sparks Innovation Corporation, as they delve into the fascinating world of electricity. Watch as static electricity and currents are brought to life through fun experiments. Discover more about how electricity is made with the atom balancer demo. And will you be able to generate your own electricity through pedal power – let's find out!
The Planetarium
The days may be longer in summer but the stars are always shining in the Planetarium. Visitors can add on an unforgettable presenter-led live show or subtitled film show. Blast off into space with Solar System Adventure, a presenter-led live show. Experience a magical journey through the stars. Discover constellations and experience the awesome scale of the Solar System as an expert presenter explores the wonders above us. Visitors can also join Chad, a test astronaut, in the subtitled film show, Astronaut. What does it take to travel in space? Watch what happens to Chad's body during a rocket launch and float around the International Space Station with him.
Bio:Space – indoor and outdoor adventures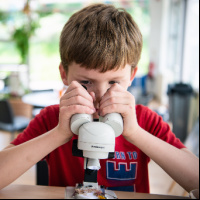 Did you know that Winchester Science Centre is in the picturesque South Downs National Park? This summer visitors can uncover the minibeasts and bugs that make their home there. Check out the ant and mealworm homes inside in Bio:Space before following the spotters trail to the Butterfly Conservation reserve. Kids can also have fun in the mini adventure playground and there's lots of picnic spots outside for those sunny days.
Immersive science fun and huge demos
Don't miss the hugely popular, and huge in size, explosive demos in Science Live that take place right on the exhibition floor throughout the day. These are definitely not ones to try at home! Families can also embark on an exhilarating adventure through the Science Centre's immersive exhibits including the out-of-this-world Explorer:Space zone and tuneful sound, hearing and vibration exhibition. Venture into an enormous 10m long guitar to feel the vibrations, experience the wonder of acoustics inside the sonic rocket and climb inside a giant ear to explore its inner workings. Laugh and learn together by making sounds in the huge echo tubes, discover more about decibels, rhythm and frequency and try your hand at British Sign Language. There's even an opportunity to join the rescue crew to save Humphrey the Humpback Whale and meet the experts in the bringing Research to Life zone, plus so much more!
And don't forget…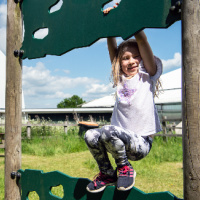 When all the adventure gets a bit much, visitors can relax in the Science Centre's two cafés. With hot and cold drinks, cakes and snacks, a small hot food offering and, of course, ice creams, there'll be something on offer to re-energise everyone for an afternoon of more fun. And for visitors wanting to continue the fun at home, the Science Shop has everything you need to make more science memories. There's pocket-money souvenirs, fun and educational books and event astronaut ice cream!
For more information and to book tickets visit WinchesterScienceCentre.org.