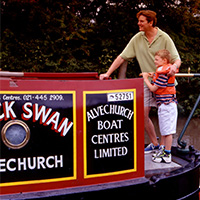 Be the captain of your own hire boat. You and your family or friends can sit back and relax as you enjoy watching Britain's most stunning countryside, towns, cities, and villages drift by your boat.
You may never have considered how interesting and relaxing a boating holiday can be. No experience is required as full instruction is provided. The children can help under supervision making it both enjoyable and education for them as well. Boating holidays are also pet friendly, so it really is a holiday for the whole family.
No queuing at airports, free parking at most bases, lots of UK start location choices, and an opportunity to try something exciting and different. What's not to like!
You can search and book boating holidays on Latelink.com and read a lot more about boating holidays. We feature opportunities in England, Wales and Scotland including, on the Canals, the Norfolk Broads and the River Thames as they become discounted.
England
A canal boat holiday on England's canals and river network is a civilised adventure; civilised because you carry all your home comforts with you; and an adventure because around every bend there is something new and surprising to discover and enjoy with your family and friends.
The specially designed boats (narrowboats) are easy to handle and of course, everything happens at a relaxed pace. You will be given all the instruction you need by the holiday company and will soon head off on your very own adventure like a seasoned boater. Your boat will be fully equipped with every modern amenity, so self-catering becomes a pleasure, but there are also many canalside pubs, once essential 'staging posts' for the working boats of the last century, which are now popular watering holes for holiday boaters; and most offer great food at reasonable prices.
There are over 2,000 miles of canals and inland waterways to explore and Latelink features last minute and late availability holidays right across the entire network.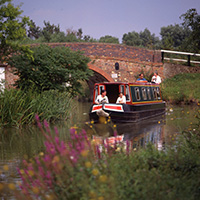 Wales
Last minute canal boat holidays Wales with Latelink Boating Holidays.
Latelink gives you access to last minute canal boat holidays in Wales, featuring the Llangollen Canal and the magnificent Pontcysyllte Aqueduct, the Montgomery Canal that reaches down into Mid-Wales and the tranquil Mon & Brec Canal that passes through the outstanding Brecon Beacons National Park.
The Llangollen Canal crosses the border between England and Wales. Its combination of picturesque countryside and breath-taking engineering draws visitors from far and wide – many of whom probably don't realise how close this beautiful canal once came to closure.
The majestic Pontcysyllte Aqueduct, the tallest navigable aqueduct in Britain, which carries the canal over the river Dee, is a masterpiece of engineering and an icon of the Industrial Revolution. In 2009 along with 11 miles of canal and its associated structures, the aqueduct was awarded World Heritage Site status.
Scotland
The Forth & Clyde Canal provide a superb navigation from coast to coast across the very centre of Scotland. They link the two historic and visitor friendly cities of Glasgow and Edinburgh and at their junction provide what is undoubtedly the greatest wonder of the waterways in the entire world, The Falkirk Wheel. Two great cities, plus the Falkirk Wheel, Linlithgow Castle, Almond aqueduct, and the list of attractions alongside these two canals is absolutely unique.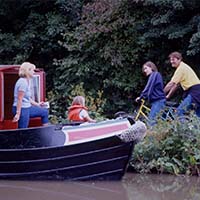 The Union Canal, or to give it its full name, the Edinburgh and Glasgow Union Canal, was begun in 1818 and opened 4 years later. The principal engineer on the project was Hugh Baird, although he took advice from the great engineer Thomas Telford
The Forth & Clyde Canal
The Forth & Clyde Canal is 56km (35 miles) long, from Grangemouth on the Firth of the Forth to Bowling on the Firth of Clyde. Following completion of Millennium Link restoration work, the canal opened in the Spring of 2001, providing coast to coast navigation. The link with the Union Canal, allowing navigation from the centre of Glasgow to the centre of Edinburgh, has been achieved with opening of the Falkirk Wheel on 24 May 2002 by Her Majesty Queen Elizabeth II.
First time boaters are given a friendly welcome by everybody on the canal.
But you won't be inexperienced for very long, for within a short time you will be gliding serenely around the first bend into a whole new and different world.
For over 20 years, Latelink has provided this unique service saving customers time trying to find boating holidays that are both available and discounted.
Call 01252 796403 or visit our website, Latelink.com. for your next adventure!