We are a small independent cleaning company that offers both domestic and commercial cleaning services, based in Kingswinford, Stourbridge.
We are fully insured, VAT registered and DBS checked.
All of my fairies are employed by me – Hayley – so I can ensure you have the same, regular cleaner each time.
We are adhering to Government guidelines with regard to Covid19, wearing PPE and applying social distancing as appropriate.
We use out own equipment and cleaning products, which we disinfect in between cleans.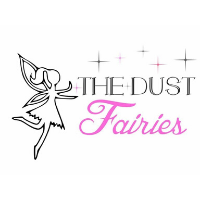 The Dust Fairies was established in 2014 by a young mother of two Hayley, she wanted to have an enjoyable work life without having to worry about the school run, maintaining a good ratio between work and home. Hayley began her venture by distributing leaflets in all her local areas and within a short period of time she had enough work for her to work a full week suiting her availabilty as well as working for herself; then gradually and slowly The Dust Fairies has slowly blossomed into what it has today.
The core values of helping Mums get back to work whilst being able to be hands on with their children, as well as providing an excellent well ran service for clientele The Dust Fairies go the extra mile. From handwritten Christmas Cards, dog treats for four legged friends, to taking a Sunday Roast over to someone who lives alone, our fairies not only clean your space but welcome you into their wings as one of their own; community building is something that is core to the company and is why our family is as big as it is.
With a current staff team of 12 members and currently over 150 customers (domestic and commercial businesses) that is continuously growing. All staff are DBS checked, have a uniform, using well branded products and cleaning tools and are fully insured to get stuck in with any services The Dust Fairies offer such as: Weekly/fortnightly cleaning, end of tenancy cleans, decluttering services and more recently before/after party cleaning.
Some other facts and achievements over the years are: Being members of The Domestic Cleaning Alliance which is the only trade association of the cleaning sector, appearing on BBC West Midlands Radio giving out cleaning tips to listeners, featuring in The Parliamentary Review in 2019, proud sponsors of Netherton Colts Under 8's Football Team since 2017 and more recently being a sponsor for Tiny Wings a non-profit charity based at Birmingham Women's Hospital. However, the biggest achievement must be being awarded The Business of The Year 2018 by forging a future by all.
This is just an insight to the journey that The Dust Fairies have encountered, and this is just the beginning, so if you're looking for a company you won't let you down – get the fairies in.
So if you are looking for a cleaner, please take a look at our facebook page or website, or give me a call to chat through our services.