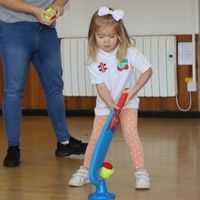 Cricket tots teaches basic cricket skills to boys and girls aged 2 ½ – 5 years old through classes that are well-structured, progressive – and above all, fun!
At Cricket tots Suffolk, your little one won't only learn to play and love cricket.
They'll also be taking part in activities that will boost their physical, mental and social development, while having fun with their friends in a friendly and safe environment.
Come and join us – and let your child start the innings of a lifetime!