Welcome to Canny Crafty: the home of Craftiness!
We are a family run business and hope to share our creative spirit with you all! Specialising in Paint Your Own Pottery and craft workshops we hope to bring fun, enjoyment and a sense of achievement to both children and adults as well as the benefits that a creative activity can have on us all. Our creative space is a relaxed, quirky environment where we encourage everyone to lose their fear of putting paint to pottery and remember…….there is no right or wrong in art!
Paint your own pottery is available Tuesday – Sunday, drop-ins are welcome during weekdays and booking is recommended on weekends and during school holidays".
Follow us on social media to keep up to date with our pop up craft workshops and regular courses. We often stage special events  – please check our website for details.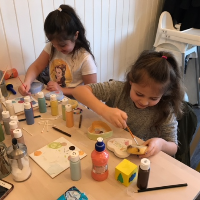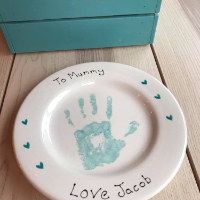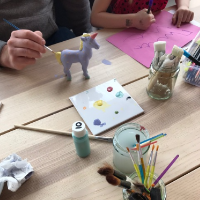 Paint your own Pottery Workshop: Available Every day – Book a place or drop in
Select from a wide variety of shapes ranging from functional items such as mugs and plates to fun figurines or letters. Simply think of a design and get creating! Once finished your masterpiece will be fired. Items ready to be picked up within 7-10 days (or posted for an additional charge).
Suitable for all ages – children must be accompanied by an adult
Child's Play 
An exciting arts and crafts project each week for pre-school children. The session will allow children to explore and play freely with a range of arts and crafts materials. £3.50 per person per week
Canny Crafternoons : Adults Arts & Craft Club!
Relax, unwind, meet with friends and take part in a range of art and craft activities in our unique Canny Crafty Club. Activities include ceramic painting, pom-pom making, button art, cross-stitch, knitting, crochet and seasonal crafts. Alternatively you can bring your own current creative project with you. From £3.50 per person per week
Baby Prints: Available Everyday – Book a place or drop in
Your child's hand or footprints are a truly personalized way for you to capture their childhood memories. It's the perfect gift for Grandparents or Father's day but most of all Christmas! They will treasure it forever. So come in create a unique memento that you will cherish forever. '€‹From £8
Parties
A Canny Crafty Party is the perfect way to celebrate a special occasion. You will have a fantastic time painting with friends and family. You will take away a unique hand-painted item as a souvenir of the special day.
We offer a variety of party packages for all occasions and ages. Parties of up to 25 guests can be accommodated at the Cafe, or alternatively we are able to bring  our Canny Crafty Party to you in the venue of your choice.
Options include ….
Location: in the heart of Gosforth, Newcastle upon Tyne, within easy reach of the city centre on public transport (bus stop directly outside for Number  6, 7, 8, 30, 31 and 35 Bus), nearest Metro is Regent St. Drop us a line, give us a call or we'd love to see you in person.
147 Salters Road, Gosforth, Newcastle upon Tyne, NE3 1DU'€‹
info@cannycraftynewcastle.co.uk
0191 2845746