Bright Minds Daycare Codsall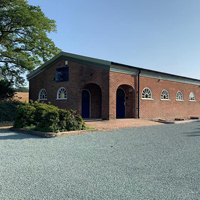 Bright Minds Codsall is our stunning new suburban setting that is conveniently located within a short distance of numerous local business districts and Wolverhampton City Centre, ideal for working parents in the surrounding area.
This beautiful and spacious property, which has been newly rebuilt, offers a magical setting for children to learn, develop and play. The nursery has been carefully converted to offer state of the art facilities to ensure the highest safety standards, whilst maintaining a warm and comfortable environment for children.
The team at Bright Minds have acquired a wonderful and spacious setting in Codsall, which is just a short distance from the i54 Business Park, Pendeford Business Park, and Wolverhampton City Centre. The building (previously Sandhills Nursery) has been extended and completely renovated to offer a truly incredible nursery setting, complete with extensive outdoor space and a 50 place car park for parent convenience. The nursery is located on Holyhead Road, offering easy access for parents commuting and living in the local area.
Bright Minds Daycare Codsall has been designed from the ground up to provide not only a beautiful environment but one that is centred around the care, safety and development of children during their early years.
We are currently taking new registrations so please contact us to arrange a viewing and meet our wonderful team.
Our Codsall setting is open 52 weeks a year Monday to Friday (excluding bank holidays) between 7am – 7pm to offer maximum flexibility to parents.
Facilities
At Bright Minds, we want the very best for your child which starts with the environment. Our grand buildings offer a wealth of space and character in prime locations which are then lovingly converted to create a warm and nurturing home-from-home for your children complete with first-class facilities, both inside and outside, that can stimulate their development whilst also inspiring their imaginations!
Performance Room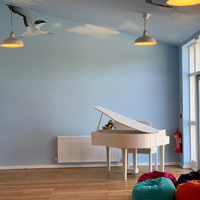 Spacious and dedicated space for music, theatre and dance related activities including specialist tuition for ballet and piano.
ICT & Sensory room
Children's computer suite with large interactive whiteboard to support structured learning alongside sensory activities.
Forest School area
Large section of outdoor space focused on real world, natural learning and play including fire pit and growing area.
Parent & Breastfeeding Room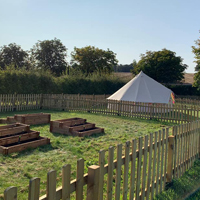 Comfortable and private area to aid parents when breastfeeding along with an informal, relaxing space for parents and staff to talk.
Baby Sleep Room
Calm and quiet room with soothing tones and blackout blinds to ensure there is minimal disturbance whilst babies' sleep.
Halal Kitchen
Segregated kitchen area and facilities, for chilled storage, preparation and cooking of food, in-line with Halal requirements.
If you would like to find out more about how Bright Minds Codsall may be able to support your child or to arrange a time for you and your family to visit the setting, please contact us.