Boredom Bags is the creation of Sheffield based parents – Ellie (a theatre casting director and former nanny) and Kyle (a primary teacher and former actor). Their children's activities business was born out conversations they had during the initial Lockdown about parenting and teaching children during the pandemic. 
What are Boredom Bags?
Bags-full of fun to keep kids entertained for hours!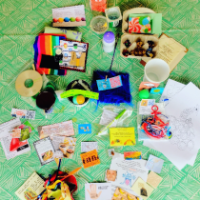 Each bag contains a whopping 35 activities – 10 specially designed kits with all of the resources you need + 25 awesome interactive activity cards – to help kids aged 2-100 get creative ?, discover science ?and nature ?, learn new skills ? ? and most importantly have fun!
• Fun games
• Arts & crafts
• Tasty recipes
• Cool science-hacks
• Interactive activity cards
• Plus much more!
All the materials you'll need (except for a few inexpensive household items) are included along with simple instructions. So, whether it's a quick 5 minute game or a project for an entire afternoon – Boredom Bags will keep kids busy and happy for weeks.
Not only are the activities fun but Boredom Bags are also eco-aware. We reimagine and reuse recyclable products wherever possible. Not only does this keep the price point of the bags affordable for everyone but crucially it reduces waste. We're supported by an ever expanding army of eco-warriors who are gathering recycling and unwanted craft materials so that we can be inspired by what's donated and only buy the essentials to bring your bag to life. 
Brilliant as gifts for grandchildren, godchildren, neighbours, nieces and nephews; perfect relief-packages for families who are having to self-isolate; or simply as bags of go-to fun that can be enjoyed by the whole family.
Bags cost £20 with free postage and gift note to any UK address and can be ordered for delivery ASAP or ready to arrive for the start of the Christmas Holidays www.boredombags.uk
Some recent parent reviews: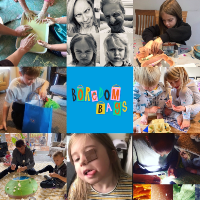 "We couldn't believe how much was in there. Such a brilliant concept, executed with imagination and forethought." Bex (London)
"I've loved the fact that the kids don't question whether to do it or not. They just grab one and want to have a go. It's a nice surprise to see which ones they seem to gravitate to – and how they make things their own." Rachel (Sheffield)
"Grace is over the moon about your Boredom Bag!!! It's full of lots of really cool memories we will be making together." Jon (Leeds)
"What a fabulous gift full of creative ideas that our children can actually enjoy, independently and together, despite the age difference between them." Ruth (Manchester)
Visit the website for FAQs, gallery and more information about their Boredom Bags journey!