Spring Flowers Bundt Cake by Juliet Sear
Cakes Biscuits & Sweet Treats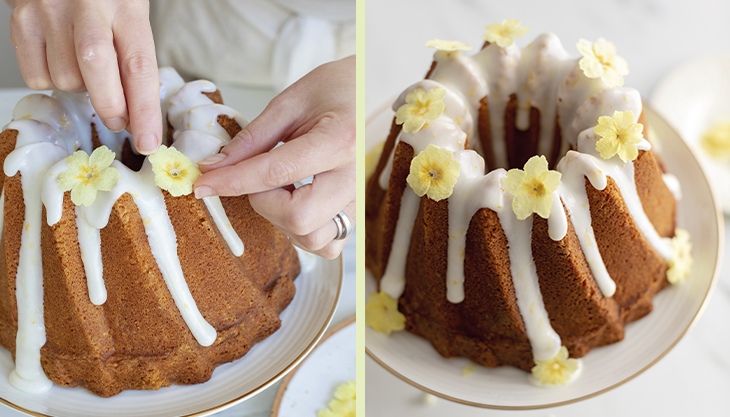 Makes 12 Portions
Preparation 30 Minutes
35 Minutes cooking time
170˚C (335˚F)

​Gas Mark 3 
Ingredients
For the Bundt
250g Butter
200g Allinson's plain white flour
50g Ground Almonds
1 tsp Baking powder
225g Billington's Unrefined Golden Caster Sugar
1 tsp Nielsen-Massey Vanilla Extract
2 tsp Nielsen-Massey Orange Blossom Water
1 orange Zest of orange
4 Medium eggs
For the Fondant
200g Silver spoon fondant icing sugar
1 tsp Nielsen-Massey Orange Blossom Water
1 orange Zest of orange
2 tsp Water to loosen to desired consistency
Handful Crystallised flowers (I used primroses)
Utensils 
Stand mixer, hand whisk or bowl and wooden spoon
Bundt tin, I've used a nordicware kugelhopf one – I love the tallness of it
Pastry brush
Piping bag
Method
Preheat the oven to 170˚C (335˚F) and prepare your Bundt tin by brushing the inside with melted butter, dusting with flour and shaking out the excess (or use cake release spray)

Cream the butter, sugar, zest and flavourings together in a stand mixer or by hand until very pale and fluffy.

Beat in the eggs gently one by one until fully incorporated.

In a separate bowl lightly mix the almonds, flour and baking powder to distribute all evenly then gently mix into the wet ingredients.

Pour into the tin, level off and bake for approximately 35–45 minutes, until cooked through. Use a cake tester in the centre to check. Turn the cake out and leave it to cool on a rack.

Meanwhile mix your fondant sugar, zest, orange blossom and water to a dripping (but not runny) consistency

Pipe all over your cake so the fondant flows into the crevices and over the pattern of your Bundt. Decorate with flowers.
About the bake
We love Bundt cakes. Absolutely beautiful with minimal effort. Our friend Juliet Sear from ITV's 'Juliet Bakes' has shared this recipe with us. The stunning tin moulds and shapes your cake into an architectural masterpiece that will have everybody marvelling in awe. Flavoured with a splash of orange blossom water and the zest and zing of orange, this Bundt is both fresh and floral. It seems only fitting to decorate it with delicate edible flowers (primroses look particularly impressive) and a drizzle of sweet fondant icing. Now that's the centrepiece decided, a few extra botanical bakes will really compliment your Bundt.
This recipe is courtesy of www.bakingmad.com