Ironbridge Museum Trust launches a range of flexible Annual Passes at the new look 'IRONBRIDGE VALLEY OF INVENTION'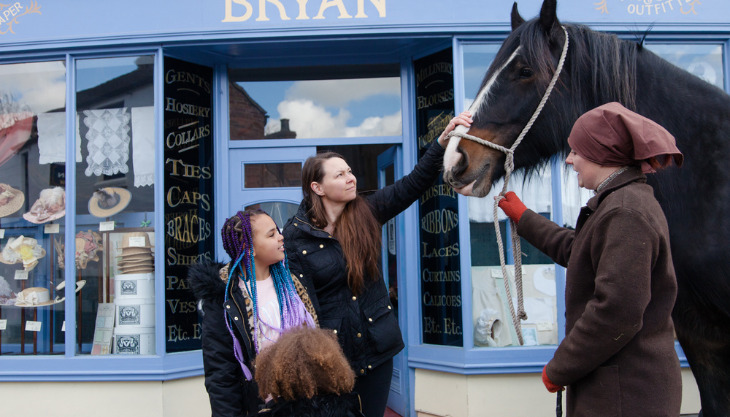 Visitors to sites across the historic Ironbridge Gorge can now benefit from a range of flexible ticket options giving them the opportunity to experience the 'Ironbridge Valley of Invention' their way.
The Ironbridge Gorge Museum Trust introduced its new PASS PLUS earlier this year – a great value ticket offering unlimited entry for twelve months as well as a raft of added benefits. PASS PLUS holders can benefit from a 10% discount in shops and food outlets at each of the Trust's sites, fast-track entry and priority booking for special events, including popular annual events like the Trusts Blists Hill Christmas Weekends and Christmas grottos.
Alternatively, visitors can opt for The PASS which offers unlimited entry to each of the Trust's ten sites, for a whole year. Visitors who purchase a single day ticket to any of the sites can also choose to upgrade to a PASS or PASS PLUS within a month of their first visit, or existing PASS holders can upgrade to the PASS PLUS at any time in order to enjoy the additional benefits.
Both options give you full access to every one of the Trust's sites across the Gorge including larger sites such as Blists Hill Victorian Town, Coalport China Museum, Enginuity and The Museum of Iron as well as sites with limited opening hours like Broseley Pipe Museum, The Darby Houses and The Tar Tunnel.
"There's so much to see, explore and experience at each of our sites, we know that there's simply not time to see it all in one visit. That's why we launched The PASS and introduced our new PASS PLUS to not only give visitors the very best value for money but to make it even easier for them to return to enjoy all that the Ironbridge Gorge has to offer." Nick Ralls, CEO of the Ironbridge Gorge Museum Trust said.
"As the birthplace of the Industrial Revolution, we are dedicated to celebrating the great minds and incredible discoveries made here and how they sparked the age of industry. Our industrial past, the legacy of the people who lived here and the historically significant buildings, structures and collections we take care of is such an important piece of the overall story of the Gorge and indeed, our identity as a trust, but it's one part of a much bigger picture," Nick adds.
"As well as enlightening our visitors about our shared history, we want to inspire them to look to the future – who knows, amongst the hundreds of thousands of visitors we welcome every year, the next great mind of our generation could be walking through our doors. Our PASS and PASS PLUS is a great way for people to explore the Valley of Invention in its entirety while offering a level of flexibility. "
The Ironbridge Gorge Museum Trust, is one of the region's premier tourist attractions. The Trust is a registered charity whose twin aims are heritage conservation and education.
The Ironbridge Gorge was designated as a UNESCO World Heritage Site in 1986 and to date approximately 16 million tourists have visited the Ironbridge Gorge Museums.
Look HERE for more information on passes
To book tickets or to learn more about what's on at sites including Blists Hill, Coalbrookdale and Jackfield, visit the Trust's website at www.ironbridge.org.uk.