Family Friendly Exhibitions to Enjoy this Summer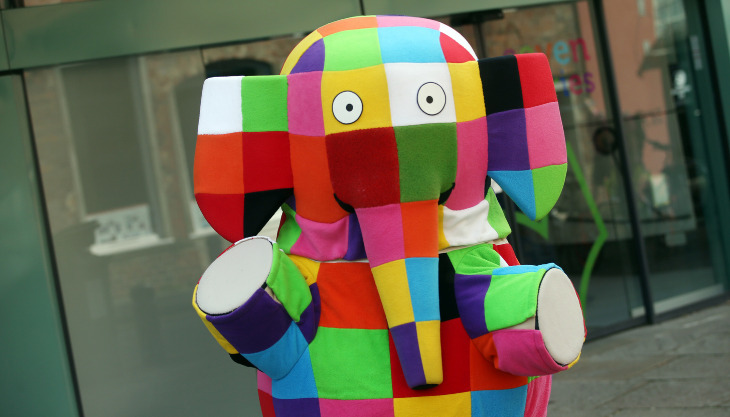 Whatever the weather there are lots of fabulous family friendly exhibitions to enjoy locally this summer including:
Tees Valley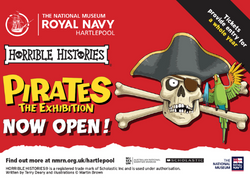 Horrible Histories Pirates at the National Museum of the Royal Navy Hartlepool
The bestselling series, by Terry Deary and illustrator Martin Brown, takes buccaneers of all ages on an epic adventure across the seven seas with hands-on displays and interactive exhibits. Let your little pirates loose as they captain their very own ship. This fun and light-hearted look at life onboard comes complete with costumes and deadly armaments ready for you to take into battle with the ene
Entry is included in the price of museum admission and tickets are valid for an entire year so you can come as often as you like!
For more information visit  The National Museum of the Royal Navy Hartlepool 
Elmer the Elephant & Friends at Preston Park Museum and Grounds, Stockton
Step into David McKee's colourful world in this playful exhibition by Seven Stories as Elmer and Friends will be at Preston Park Museum until 11 September 2022 – the first time it will have been seen in the Tees Valley! Take a walk through Elmer's jungle and discover your favourite stories along the way, with different stations for you to read, relax, get creative and interact with this colourful and vibrant exhibition. Entry is included in the price of museum admission, so you can also explore the museum, including replica Victorian Street, galleries, and gardens.
For more information visit Preston Park Museum and Grounds
Choo choo! Visit the world of miniature model railways at NT Ormesby Hall in Middlesbrough
Ormesby Hall is delighted to welcome you back to see the modern railway collection run once again. When you visit Ormesby Hall and venture into the servant's wing you will hear the familiar noise of trains. Following the sound, you will be surprised to find there are three permanent model railway layouts in the house: Corfe Castle, Pilmoor Station and the interactive Thomas the Tank Engine.
For more information visit NT Ormesby Hall
Locos & Lemon Tops at Head of Steam – Darlington Railway Museum
Discover more about how the railways opened up the seaside to the masses and explore the history of our seaside towns in Head of Steam's fun, summer exhibition running until 4 September 2022 at no extra cost to normal admission.
For more information visit Head of Steam
WOW! Said the Owl, an interactive exhibition at The Hullabaloo, Darlington
A fantastic, interactive play exhibition based on the award-winning book by Tim Hopgood, which follows a little owl on a daytime adventure to appreciate just how colourful the world really is. This bright and bold exhibition offers younger children a rich, sensory experience inspired by this much-loved picture book.  The exhibition seeks to give children the same sense of wonder and amazement by introducing them to colours and inviting them to be creative by playing with shapes, puppets, costumes and drawing. We have lots of craft activities and a family trail where children can search The Hullabaloo to find the wonders that the little owl discovers on her daytime adventure.
Suitable for children aged 0-5 years. Free to drop in, donations welcome.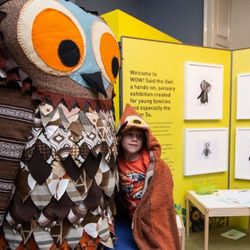 WOW! Said the Owl exhibition is open until 19 August 2022  Monday – Saturday, 10am – 2pm.
Storytelling Sessions
Throughout our Wow! Said the Owl exhibition we're running a series of storytelling sessions – you can drop in anytime between 10.15am and 1.45pm!
For more information visit Theatre Hullabaloo
Co Durham
Discover Roman Life at Palace Green Library, Durham 
Picturing the Romans invites you to explore the daily life of Romans through images found on Samian Ware, a type of decorated Roman pottery. You will discover how this pottery was produced and the way people lived thousands of years ago through objects they left behind.  This exhibition was created by MA Museum and Artefact students at Durham University and is running until 28 September 2022.
For more information visit Palace Green Library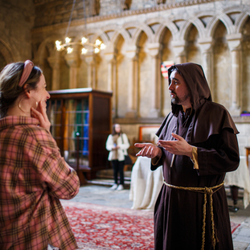 Meet St Bede, lots of family activities to enjoy at Durham Cathedral 
From science to poetry, discover the vast scale of Bede's work, and delve into the stories of Bede's life in Durham Cathedral Museum's Latest exhibition, presenting a snapshot into the life and legacy of this great teacher and writer. Learn what Bede's splendid shrine at Durham Cathedral might have looked like and why it was destroyed as the display includes archive material, objects, and early printed books from the Cathedral collections, together with a number of loaned items from other organisations. The exhibition is open until 30 October 2022, and you can book tickets to explore the museum at your own pace.
For more information visit: Durham Cathedral
Explore the cultures of the Orient at the Oriental Museum Durham University
From Ancient Egypt to modern China, the oriental museum is the only museum in the North of England devoted entirely to the art and archaeology of the great cultures of Northern Africa and Asia. The museum has a collection of more than 23,500 Chinese, Egyptian, Korean, Indian, Japanese and other far east and Asian artefacts.
For more information visit The Oriental Museum
Lots more ideas from around the region on the Raring2go! website, just localise to your own area to see what's on near you!