Staying safe at the coast with the RNLI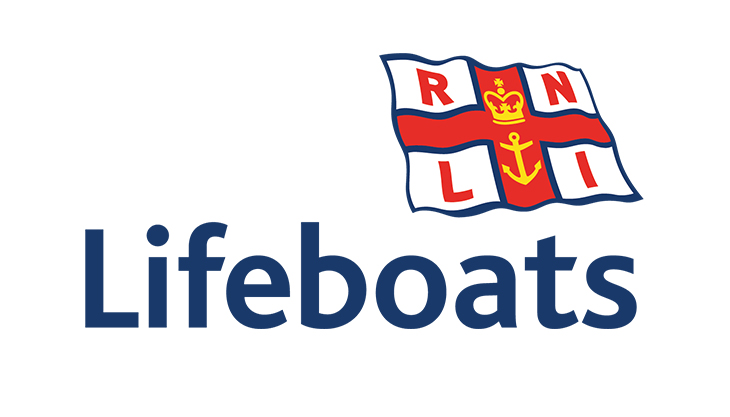 The RNLI patrol over 240 beaches around the UK, providing over 1500 lifeguards to help keep people safe at the coast.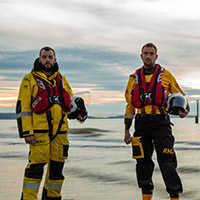 This year we're expecting even more people to visit the coast than last year, so it's important to remember some key pieces of safety advice.
Being by the water, especially on a warm summer's day, is a fantastic experience and one we would never want to discourage; however, water also comes with a variety of hazards. The RNLI has 238 lifeboat stations and over 240 lifeguarded beaches, but accidents can still happen. By understanding some simple water safety advice, you can help keep yourselves and loved ones safe if you're heading to the coast.
Firstly, always try and visit a beach that is lifeguarded. If you're unsure if your local beach is lifeguarded, you can check on the RNLI website for the nearest one (https://rnli.org/find-my-nearest/lifeguarded-beaches). When you reach the lifeguarded beach, familiarise yourself with the signage and flags.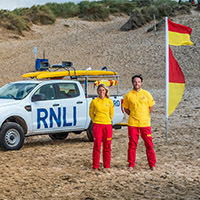 The safest place to swim on a lifeguarded beach is between the red and yellow flags, this will be the area the lifeguards have deemed is the safest to enter the water.
If you visit a beach and there is a solid red flag flying, this signifies danger, and you should not enter the water under any circumstances.
Black and white flags show the non-motorised watercraft zone (surfers, stand up paddleborders etc) and this should not be used as a swimming zone.
The last flag you should look out for on a beach is an orange windsock. This shows that an offshore wind is blowing and therefore the use of inflatables is not advised. Inflatables are designed for the swimming pool so are very easily blown out to sea, even in the slightest of breezes and can disappear in a matter of seconds.
When visiting a lifeguarded beach, please feel free to go and have a chat with the lifeguards on duty that day. They will be able to talk about any hazards and give you up-to-date safety advice for that area, including tide times and the general weather forecast. Please encourage children to always stay close to you, they should never be near the water alone, and if you do get separated, make sure they are aware to go and find their nearest lifeguard or lifeguard hut and wait there until found.
If you witness an emergency, please notify the lifeguards immediately. If you are in an area with no lifeguards, call 999 and ask for the coastguard, keeping your eyes on the casualty at all times.
The UK has some of the finest beaches in the world and we encourage you to enjoy them, but please enjoy them safely and help share our water safety messaging with your friends and family.
As we move into different seasons we must be aware of the water temperatures both on our coast and inland. It is very easy to experience cold water shock which is triggered in water temperatures lower than 15⁰C. The average temperature of UK and Irish waters is 12⁰C. So even in the summer, the water temperature is cold enough to cause cold water shock, which can steal the air from your lungs and leave you helpless in seconds. If you find yourself in difficulty in the water, float to increase your chances of survival.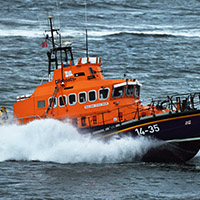 Float to Live
Fight your instinct to thrash around.
Lean back, extend your arms and legs.
If you need to, gently move them around to help you float.
Float until you can control your breathing.
Only then, call for help, swim to safety or continue floating until help arrives.
Gabbi Batchelor, Water Safety Education Manager at the RNLI said: 'It is important that anyone visiting the coast understands the risks of the environment. It can be very unpredictable, particularly during early summer when the risk of cold water shock significantly increases, as air temperatures warm but water temperatures remain dangerously cold. If you get into trouble in the water, Float to Live: lean back, using your arms and legs to stay afloat. Control your breathing, then call for help or swim to safety. In a coastal emergency, call 999 or 112 for the Coastguard.'
You can find out more information on staying safe at the coast here: https://rnli.org/safety
How can you support the RNLI?
The RNLI offers a supporter membership just for children called Storm Force. For just £12 a year, your child will receive four issues of the Storm Force magazine, online access to our Crew Room with great activities and rescue videos plus a membership pack with crew bag, pencil case, stickers and more. You can join the Storm Force team by visiting our website.
We have plenty of ideas and resources for those who would like to fundraise for us. You can also make a donation at RNLI.org/GoDonate.