A summer of fun activities at Raby Castle and High Force Waterfall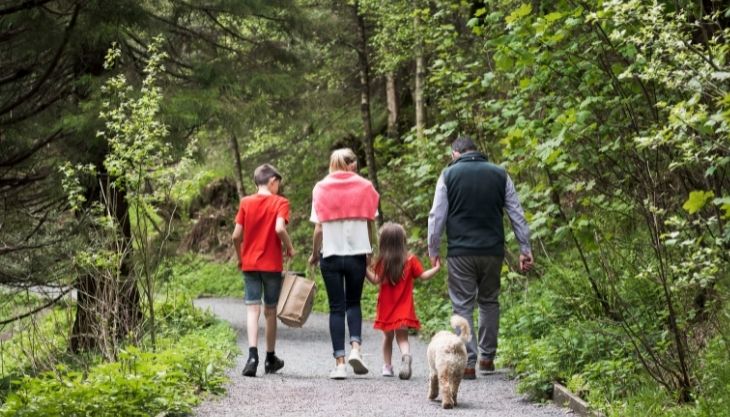 From fun-packed events featuring outdoor games to a summer trail full of discovery, Raby Estates is introducing an impressive range of summer activities to keep the children entertained – and all at no extra cost to the usual entry price.
Interactive Safari Trail
Raby Castle's stunning Deer Park will come to life with a new summer safari trail throughout the school holidays, as families decipher clues to uncover lost items of treasure. A twist on last year, the trail will also feature interactive boards that will ignite the human senses, so little adventurers can let their imaginations run wild during their journey of intrigue and exploration. Included in the admission price and running from Friday 1st July until Sunday 4th September, the trail will also feature themed arts and crafts for families to get creative and maybe make a memento to take home with them.
Summer Sundays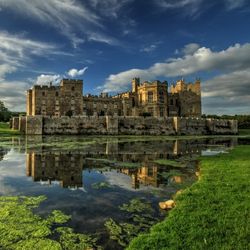 During Summer Sundays throughout July, Raby's courtyard will be transformed into a delicious street market with tantalising dishes on offer – from pulled pork baps to wood fired pizzas, which have all been created by Raby's estate chef Tom Parry. Parents can get their toes tapping to live music in the courtyard or browse through the beautiful gifts in Raby's shop whilst the children take part in outdoor games to keep them entertained.
Sophie Brown, events manager at Raby Castle, said: "The summer holidays bring with them a sense of freedom and the opportunity to explore outside the classroom walls.
"We've seen first-hand how important and rewarding it is to inspire children from an early age. We want our summer offering to provide parents with the perfect backdrop for creative fun and games and a variety of ways to enjoy immersive play."
"Many of our activities are included within the usual admission price so guests don't need to worry about paying anything extra, and we've purposefully decided to host our Summer Sundays in the courtyard, so admission is free for everyone."
Outdoor Theatre – Awful Auntie
For those who enjoy being captivated by the power of live theatre, Raby will be hosting an outdoor theatrical adaptation of David Walliams' Awful Auntie. Taking place in the castle grounds on Friday 12th August at 6.30pm, families will be introduced to Stella Saxby and her awful Aunt Alberta, who is determined to torment Stella into signing over her inheritance.
The Plotters' Forest
Imaginations can also run wild at Raby's adventure playground – the Plotters' Forest, which opened earlier this year. From a pair-matching game and talking tubes to a musical xylophone and convex mirror dome, little ones can let off steam within the magical woodland setting of Raby's Christmas tree plantation.
Outdoor cinema, seasonal market & more …
Additional events taking place throughout the summer months at Raby include the harvest seasonal market on Sunday 28th and Monday 29th August and an outdoor cinema programme throughout July which includes classics Grease and Mamma Mia.
Prehistoric Trail at High Force Waterfall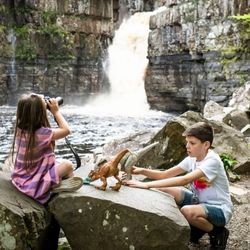 A short drive from the castle and in the stunning countryside of Upper Teesdale, Raby Estate's High Force Waterfall – one of the most impressive and tallest waterfalls in England – will be hosting a prehistoric trail throughout the summer break. Created to transport its visitors back in time to a land where dinosaurs roam, the trail – which is included in the High Force admission price – will encourage little ones to become dinosaur detectives as they search for lost items on their woodland way to the majestic waterfall.
Visitors to High Force can also enjoy the circular walking route around the waterfall in this area of outstanding natural beauty, then relax in the garden of High Force Hotel with an ice cream on a warm summer's day or enjoy a delicious family meal in the hotel restaurant.
Throughout July and August, the High Force restaurant will be introducing Summer Lates every Wednesday to Friday. Featuring a two-course set menu for £19.95, available from 4pm until 6.30pm, guests can enjoy seasonal home cooked dishes showcasing the many wonderful producers and growers in Upper Teesdale, followed by a leisurely stroll around the waterfall during its extended opening hours.
Further information
Prices for the Park & Plotters' Forest cost: £8 for adults, £7.50 for children and £29 for a family ticket. A concession ticket is also available at £7.
Prices for Raby Castle, Park & Plotters' Forest cost: £13 for adults, £10 for children and £45 for a family ticket. A concession ticket is also available at £12.
Tickets to the outdoor theatre performances are £15 for adults and £10 for children, and tickets to the outdoor cinema experiences cost £14.50 for adults or £9.50 for under 12s.
For further information, and to book tickets, visit the Raby Castle website
A small entrance fee of £2.50 for adults (16+) and £1 for children (5-15) is required to access High Force Waterfall. Under 5s are free. For details, visit: www.raby.co.uk/events/high-force-waterfall/