Medieval Newcastle – right under our feet!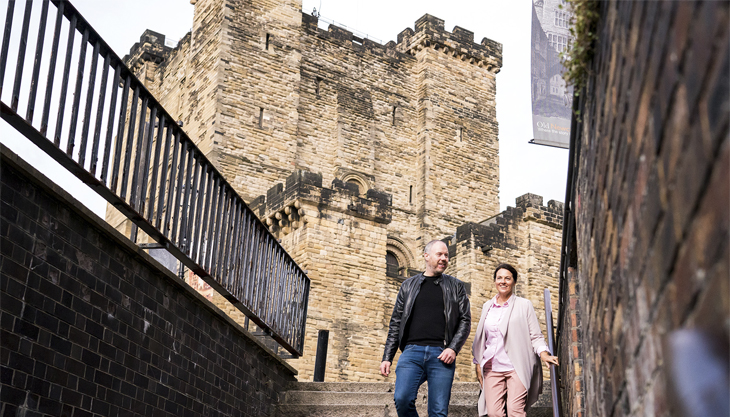 Have you lived here in Newcastle for most or all your life? I have! I recently went on a tour with Newcastle Castle to find our about what life was like here 500 years ago…it's fascinating!
These new guided tours around the fascinating remains of medieval Newcastle, include free entry to Newcastle Castle.
The tour brings to life the medieval history of Newcastle which lies hidden behind the facade of the modern city.
One of our authentically costumed guides will take you from St Andrews, Newcastle's oldest church, past the formidable town walls taking in Friaries, merchant houses, markets and guild headquarters, before finishing at the imposing Black Gate – the gatehouse of Newcastle's Castle.
From here you will be free to explore the amazingly preserved remains of the Black Gate and Castle Keep for yourselves – tickets are included in the price of the tour at a significant discount.
More information and tickets click here
For enquiries about booking a private Medieval Newcastle Tour at other dates or times date, please contact: corey.lyddon-hayes@newcastlecastle.co.uk or telephone 0191 230 6300.
This is a walking tour of the city, so please wear suitable footwear. You will need to be able to manage some stairs and sloping streets. Please note that the Castle Keep which you will visit after your tour is a Grade I listed building and is unfortunately not fully accessible to those with mobility difficulties.
1.5 Hours, plus discounted entry to the Castle afterwards.
Newcastle Castle is a family-friendly historic attraction that reveals the story of how Newcastle began, the reason the city got its name and to walk in the steps of the people who lived and died in the shadow of Newcastle Castle.  Steeped in history this imposing Norman fortress, in the centre of Newcastle Upon Tyne and tells the story on Northern England's exciting and turbulent history.
Newcastle Castle also hosts all manner of events with a host of sell-out film screenings and theatre shows in 2018 and 2019. A nurturer of new talent, Newcastle Castle is fast becoming a key cultural hub of the North East cultural scene.