Perfect Places to Pedal: Family Bike Riding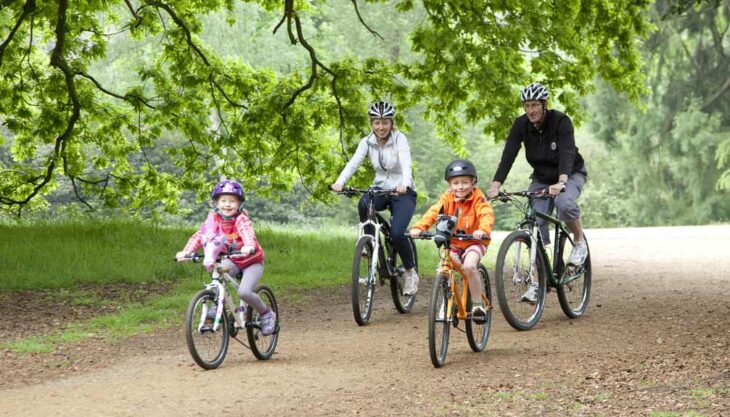 Cycling is not only great exercise for both you and your kids, it's also the most green form of transport you can take. So lower your carbon footprint and get on your bike ! Here are our favourite local bike riding routes.
---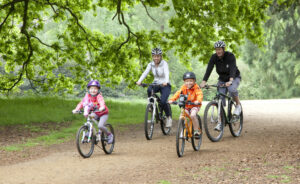 1. Wyre Forest 
Wyre Forest is rated as one of the top three most ecologically important forests in Britain so offers fantastic scenery to cycle around. The family cycle route uses forest roads to take you through a varied woodland landscape. Green circular markers make the two cycle trails easy to follow. Start from the Discover Centre near Callow Hill. The centre offers toilets and a cafe too. If arriving by car, take some change for the car park machine. You can now hire bikes from Bewdley Outdoors, based at the Wyre Forest Discovery Centre – perfect if you don't have a bike rack but want to go for a bike ride with the family!
This summer, the Commonwealth Games Mountain biking competition will be coming to Forestry England's Cannock Chase Forest, and to help encourage the next generation of off-road cyclists, Forestry England has developed a new Forest Rider Pack, now available at Wyre Forest.
2. Canal Towpaths

Our local canal network provides an abundance of flat towpaths along which to ride. In the springtime it's lovely to cycle alongside the waterways, spotting herons and ducklings along the way.
One of our favourite canal routes is from Stourton to Kinver, with a well earned rest and packet of crisps at The Vine, before riding home, or a stop at The Lock for one of their delicious burgers!
The whole family can enjoy a cycling adventure into the woods at Dudmaston Hall, near Bridgnorth . Whether you're experienced or just a beginner, the mountain bike route through the woods is a fantastic way to take in the local scenery Open 365 days per year this is a great way to enjoy all the seasonal changes on this beautiful part of the National Trust estate.
4. The South Staffordshire Railway Walk
This route (Near Baggeridge Park)  runs from Wolverhampton's Aldersley Stadium to Himley, then continues as the Kingswinford Railway walk to Pensnett, running near Himley Hall. The route is road free as it runs along an old railway so crosses the roads via bridges. There are picnic sites dotted along the way
This route is suitable for all abilities, including young children as it's mostly flat. Free car parking is available at the Old Wombourne Station, and at Himley Station.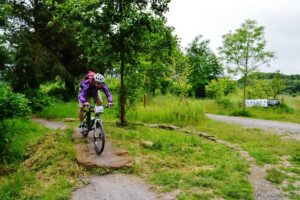 Sandwell Valley is a great place for a family bike ride, with different options for all levels of ability. If you don't want to bring your own, you can hire bikes there (www.valleycyles.co.uk).There are miles of easy cycle routes. A cycle around the reservoir is a nice route for small children and for the more adventurous, there's a 3.5k Mountain Bike Track as well as a Pump Track, located near to the adventure park, with lots of big bumps to ride over.
6. Stratford Greenway

The Stratford Greenway follows the course of an old railway. This trail for walkers and cyclists links the attractive town of Stratford-upon-Avon with the village of Long. The Stratford Greenway follows the course of part of the Honeybourne Line, a single track railway built in 1859 by the Oxford, Worcester and Wolverhampton Railway and closed in 1976. Now a trail for walkers and cyclists, the route links the attractive town of Stratford-upon-Avon with the village of Long Marston. Click here for a route.
The whole family can enjoy a cycling adventure around the Arrow Valley lakes, near Redditch and following the sign posted trail. Click here for a route.
8. Tudor Grange Park, near Solihull
A joint venture with Solihull Cycling Club, and British Cycling, the track was the brainchild of Olympic silver medallist Harry Reynolds. It is ideal for those interested in this fast paced and fast growing Great British sport. Ideal for pro-training or just for children having fun, or learning to ride – the figure of eight track is big enough for everyone!
Send us your suggestions for places to ride. Email us here.
---
Tips for getting started, from Sustrans: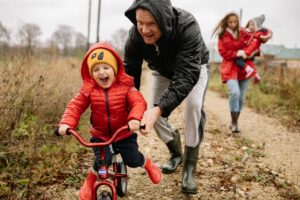 Getting started – If you have young children, you will need some method of transporting your little ones on your bike. Options include: a bike seat (approx 6mths-3yrs) that fits on either the cross bar or the back of an adult bike; a sit-in trailer (approx 6mths-5yrs) that can be pulled by an adult bike; or a trailer bike (approx 4-9yrs) that attaches behind an adult bike. Whichever option you prefer, visit a reputable bicycle shop for advice before buying.
First rides – Children who have just learned to cycle independently – usually around seven years old – will enjoy a cycling trip with you. To keep them enthusiastic, start with short, safe traffic free journeys on relatively flat routes, and allow for plenty of rests so they don't get too tired. Cycle behind them so you can see them clearly.
Practicalities – Security is essential, so invest in a good quality bike lock for each bike – look for
a strong lock that can secure the wheels and main frame to a solid external support. Panniers – bags that usually fit on a rear rack of a bicycle – are a useful way to carry things and are more comfortable than backpacks, which can be heavy and hot. Cycling is thirsty work, so always carry enough water for everyone. A few snacks probably won't go amiss either.
Head out – Once you are confident about cycling with your family, go exploring. For over 10,000 miles of routes on traffic-free paths, quiet lanes and traffic-calmed roads, check out The National Cycle Network on the Sustrans (the UK's leading sustainable transport charity) website: www.sustrans.co.uk.