2022 Summer Reading Challenge…introducing the Gadgeteers!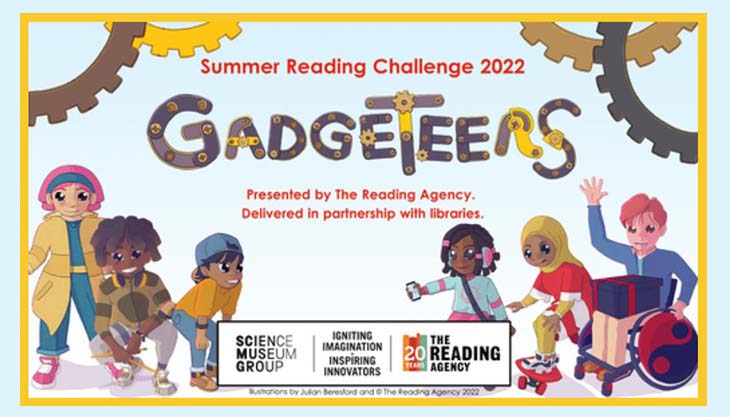 What is the Summer Reading Challenge?
The Summer Reading Challenge 2022 is the UK's biggest free reading for pleasure programme for children. Taking place annually, the Challenge encourages children aged 4 to 11 to keep reading during the summer holidays. This year we are introducing the Gadgeteers!
Children's reading can 'dip' during the long summer holidays if they don't have regular access to books and encouragement to read for pleasure. This can be a problem for schools to put right in the new term. The Summer Reading Challenge helps by regularly reaching over 700,000 children each year, motivating them to visit the library and keep reading during the holidays, and in turn helping them to maintain their reading skills and confidence.
Start dates
The Challenge runs throughout the summer holidays across the UK. This year, the Challenge begins in Scotland and Northern Ireland on Saturday 25 June, and in England and Wales on Saturday 9 July. Variations apply in some areas, so please check start dates with your local library service.
Location
The Challenge runs in 95% of UK public libraries and online via our children's website, summerreadingchallenge.org.uk. Children can join via their local library, where they can borrow books, attend events, and collect free incentives and rewards. They can also sign up via our children's website, where they can rate and review books, download activities, and access video content, games and quizzes.
Introducing the Gadgeteers!
Science is all around you!
This year's Summer Reading Challenge, 'Gadgeteers', is all about science and innovation. Developed in partnership with the Science Museum Group, the Challenge will inspire children to use their curiosity and creativity to discover the science behind the everyday, and celebrates the role of the imagination in both reading and the sciences.
Through the Challenge, children will meet our six fictional characters, the Gadgeteers, brought to life
by top children's writer and illustrator, Julian Beresford.
The Gadgeteers are six young friends who love hanging out at their local community centre, and are planning a party. They all enjoy creating new inventions and working together to solve problems! Using their imagination and curiosity, the Gadgeteers will come up with innovative ways to get everything ready for the summer party. This setting will allow children to explore the science behind a range of interests, from fashion and technology to cooking and music.
Over the summer term, the Science Museum Group will be offering opportunities and resources for UK public libraries and primary schools to engage with the theme of this year's Summer Reading Challenge and to spark children's imaginations.
The Book Collection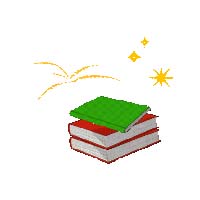 The Summer Reading Challenge Book Collection is comprised of 67 inspiring titles for children of all reading levels aged 4-11. Each title has been specially chosen to reflect key Gadgeteers themes including everyday science, invention and creation, and fun with friends. Read about the selection process here and explore this year's collection at www.summerreadingchallenge.org.uk
The collection is presented in two lists – one for younger children and one for more confident readers – representing exciting contemporary children's fiction, poetry, non-fiction and picture books with science and innovation themes. Many of the books in the collection are newer titles publishing in 2022.
A number of titles will be available to enjoy in additional formats, with eBook and audiobook availability noted where possible.
We're also pleased to share that the Books Council of Wales is curating a list of Welsh language books
to resonate with the Gadgeteers theme… Be sure to join in today! www.summerreadingchallenge.org.uk
---
About The Reading Agency
At The Reading Agency, we tackle life's big challenges through the proven power
of reading. In 2020-21, The Reading Agency reached over 1.9 million people across
the UK, including more than 900,000 children and over 900,000 adults and young people.
About the Science Museum Group
The Science Museum Group is the world's leading alliance of science museums, welcoming over
five million visitors each year to five sites: the Science Museum in London; the National Railway Museum in York; the Science and Industry Museum in Manchester; the National Science and Media Museum
in Bradford; and Locomotion in Shildon. We share the stories of innovations and people that shaped
our world and are transforming our futures, constantly reinterpreting our astonishingly diverse collection of 7.3 million items spanning science, technology, engineering, mathematics and medicine. Standout objects include the record-breaking locomotive Flying Scotsman, Richard Arkwright's textile machinery, Alan Turing's Pilot ACE computer and the equipment used by John Logie Baird to transmit the first ever television pictures.
Our mission is to inspire futures – igniting curiosity among people of all ages and backgrounds.
Each year, our museums attract more than 600,000 visits by education groups, while our touring exhibition programme and websites bring our creativity and scholarship to audiences across the globe. Visit www.sciencemuseumgroup.org.uk to learn more.