500,000 FREE books given to children for Queen's Jubilee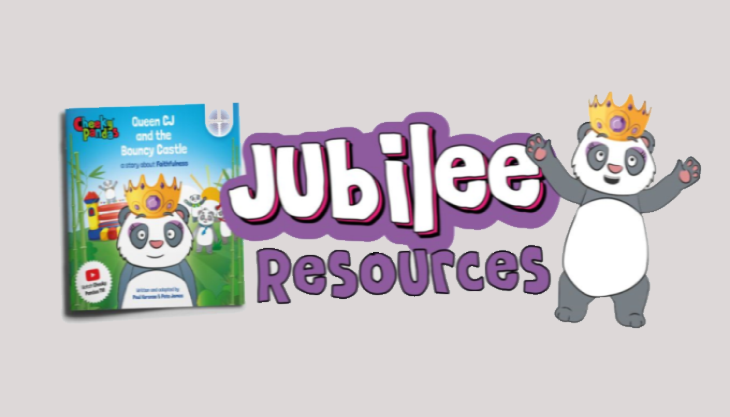 The Church of England and Thy Kingdom Come prayer movement are giving away up to 500,000 FREE story books to children, in honour of The Queen's faithful reign 
The book is inspired by the Queen's dedicated service to the country for 70 years, and her Christian faith
The Queen's commitment to the country and her Christian faith has inspired a free story book, which will be distributed to half a million children in honour of Her Majesty's Platinum Jubilee.
The book, which is based on faithfulness, honours The Queen's 70 steadfast years on the throne and is being issued by The Church of England and Thy Kingdom Come, The Archbishop of Canterbury's global prayer movement. 450,000 of the books have already been requested and given away.
The free story, Queen CJ and the Bouncy Castle, is a product of The Cheeky Pandas – a children's cartoon series featuring contributions from stars including CBeebies' Gemma Hunt, and Archbishop Justin Welby. In the book, a little panda who owns a bouncy castle and doesn't want to share it with her friends, learns that a good ruler is faithful to her people and serves her country through the ups and downs – just like Queen Elizabeth II.
Alongside the book, there will also be a special 'Royal' themed Cheeky Pandas episode by the makers of CBBC's Andy and the Band and CBeebies' The Baby Club, with voiceovers from Gemma Hunt, and free activity packs (including a widget version for children with additional needs), assembly plans and music videos to use in homes, schools, and churches.  Cartoon episodes will also be available in BSL.
Pete James, the creator of the Cheeky Pandas said:
"It is an honour to partner with Thy Kingdom Come and the Church of England this year to create these resources to nurture young children's faith in a fun way, in celebration of Her Majesty the Queen's Platinum Jubilee"
You can order the free books here on The Cheeky Pandas website, as well as other free Jubilee resources. 
There is also an extended version of The Cheeky Pandas free Jubilee book, available for purchase.