Jubilee Celebrations At Worcester Museums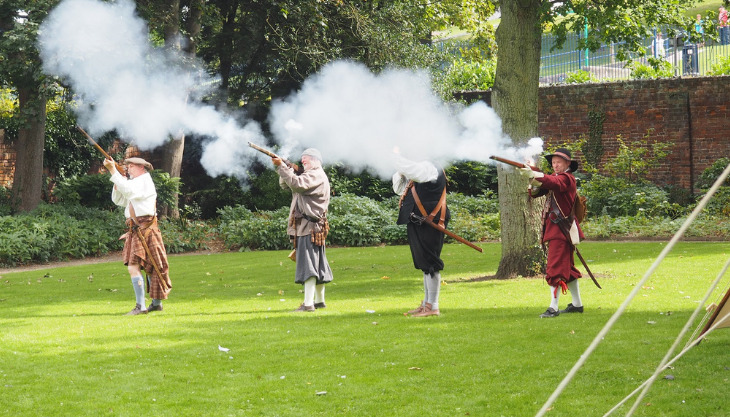 Platinum Jubilee Celebrations at Museums Worcestershire
Celebrations are afoot for The Queen's Platinum Jubilee with special events, family trails and crafts at Worcester Museums:  The Commandery, Worcestershire County Museum at Hartlebury Castle, and Worcester City Art Gallery and Museum.
Hartlebury Castle
The fabulous fifties will take over Hartlebury Castle on Bank Holiday Thursday 2 June: when visitors are invited to dress in their best 1950s gear and have a sing and dance with the fantastic Bluebird Belles as we revel in the decade The Queen came to the throne. Step into the past and experience Worcestershire County Museum's Lavish Living exhibition which celebrates life in the fifties in the County including glorious costume and a 1950s room setting.
Younger visitors can get stuck into Coronation Crafts and will be able to construct and decorate a mini wooden royal carriage and make a sceptre to take home. They can explore the Castle and Museum with a jubilee-inspired family trail. Coronation Crafts runs from Tuesday 31 May to Friday 3 June, and the trail from Tuesday to Sunday 5 June (usual admission + £2.50 per child for crafts).
The Commandery
The Worcester Reenactors will bring The Commandery's historic past to life in a day of Jubilee jubilations on Friday 3 June. In a beautiful building and gardens famous for Royalist connections, there's no better setting in which to tell the stories of the Royalists and Parliamentarians in the Civil War.
Children can turn themselves into a majestic queen or king by creating Royal Revelry crowns and sceptres, then follow a family trail around The Commandery to discover fascinating regal figures who have ascended the throne since the restoration of the monarchy in 1660. The crafts and trail are available from Saturday 28 May to Sunday 5 June (usual admission + £2 per trail/craft).
The independent canal-side café Commandery Coffee will be open with homemade food and wonderful coffee.
Worcester City Art Gallery & Museum
At Worcester City Art Gallery and Museum, kick off the Bank Holiday with a relaxed evening of live music, themed cocktails, and test your knowledge of all things royal with a quiz fit for a queen at Museum After Hours: Jubilee (Wednesday 1 June, 5.30 – 8pm). Vintage singer Melissa Hollick will be performing – she will cover a range of classics from across the decades. This social evening is also a special opportunity to see the spring exhibition, Hokusai's Great Wave: Reflections of Japan, after hours before it closes on Saturday 2 July.
"The Platinum Jubilee is fast approaching and there are plenty of fantastic events to get involved with at The Commandery, Worcestershire County Museum at Hartlebury Castle, and Worcester City Art Gallery and Museum. Where better to soak up the atmosphere of the occasion than at one of Worcestershire's historic sites?" says Commandery Manager Rachel Robinson.
Extra charges apply for some activities; please see the website for full details www.museumsworcestershire.org.uk.